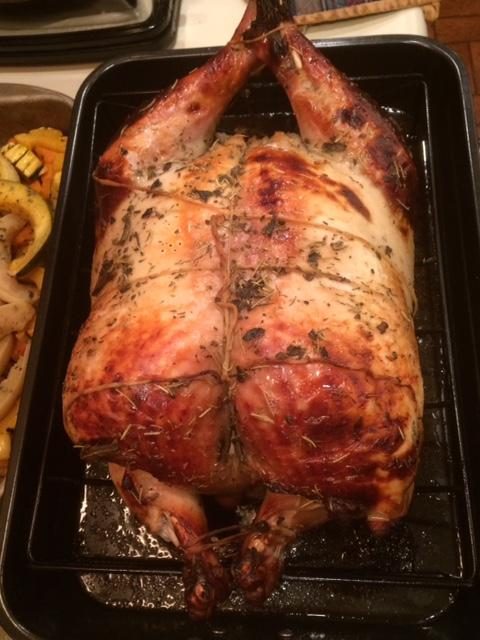 The holidays have officially kicked off and I'm considering breaking out the maternity pants like Joey on friends.  We're gathered with family, the buzz of stories and laughter with the recordings of "Alice's Restaurant" playing in the background. Dinner is cooking, and the house smells amazing. I can't wait to eat everything. This year, I am grateful for my health, a good job, wonderful friends and family. Things are so good, and days like this where we talk about all that we're grateful for remind me of how far I've come and how fortunate I am.
This year, we went a little crazy on the menu for Thanksgiving, and I can't wait to eat it all and snack on the leftovers!  So what's on tap for today?
Breakfast
Goat cheese, bacon, and leek tart with chanterelle mushrooms
Mango-orange mimosas

Dinner
Appetizers:
Deviled eggs-regular and habenero
Caprese Skewers
Cranberry Wine
First Course:
Mixed green salad with candied walnuts, pomegranates, and a raspberry walnut vinaigrette.
Beets with goat cheese crumbles and pistachios
Main Course:
Deboned, honey brined turkey
Rotisserie roasted pork shoulder

Sides:
Mashed potatoes
Pear, cranberry, and port conserva
"Green Slime"-pistachio pudding, cool whip and marshmallows
Pineapple coconut salad
Applesauce
Roasted squash medley with port poached cherries, and almonds
Chorizo spinach stuffing (gluten free)
Turkey stock gravy
Wheat bread with orange cranberry pecan butter
Rolls
Drinks:
Prosecco, Chardonnay, Pinot Noir, more cranberry wine

Dessert:
Gluten free vegan cashew and date cheesecake
Cranberry walnut tart
Vanilla bean ice cream
Sandeman's Port
Prosecco
There you have it!  I'm so excited to dig in and eat.  While it's a lot of food for 8 people, we'll all leave with a ton of leftovers. Full bellies and happy hearts, and isn't that a great way to spend the day?
How are you spending the holiday and how do you give thanks?
Yours in food and happiness,
Raina