I don't know about where you are dear reader, but here in Seattle flu season has been rough! You combine normal winter germs, an abundance of flu germs, and add in having a little one in preschool this year, you've got a recipe for disaster. Luckily, I also have a recipe to help combat germs, clear out the stuffiness and best part of it all? It's tasty!  Meet one of my favorite winter remedies: Fire cider!
This little gem is savory, tangy, spicy and all around wonderful. It's easy to make, stores for a year, and is the gift that keeps on giving. Added benefit? It's AMAZING in Bloody Mary's, so you can't go wrong! Ready to get started?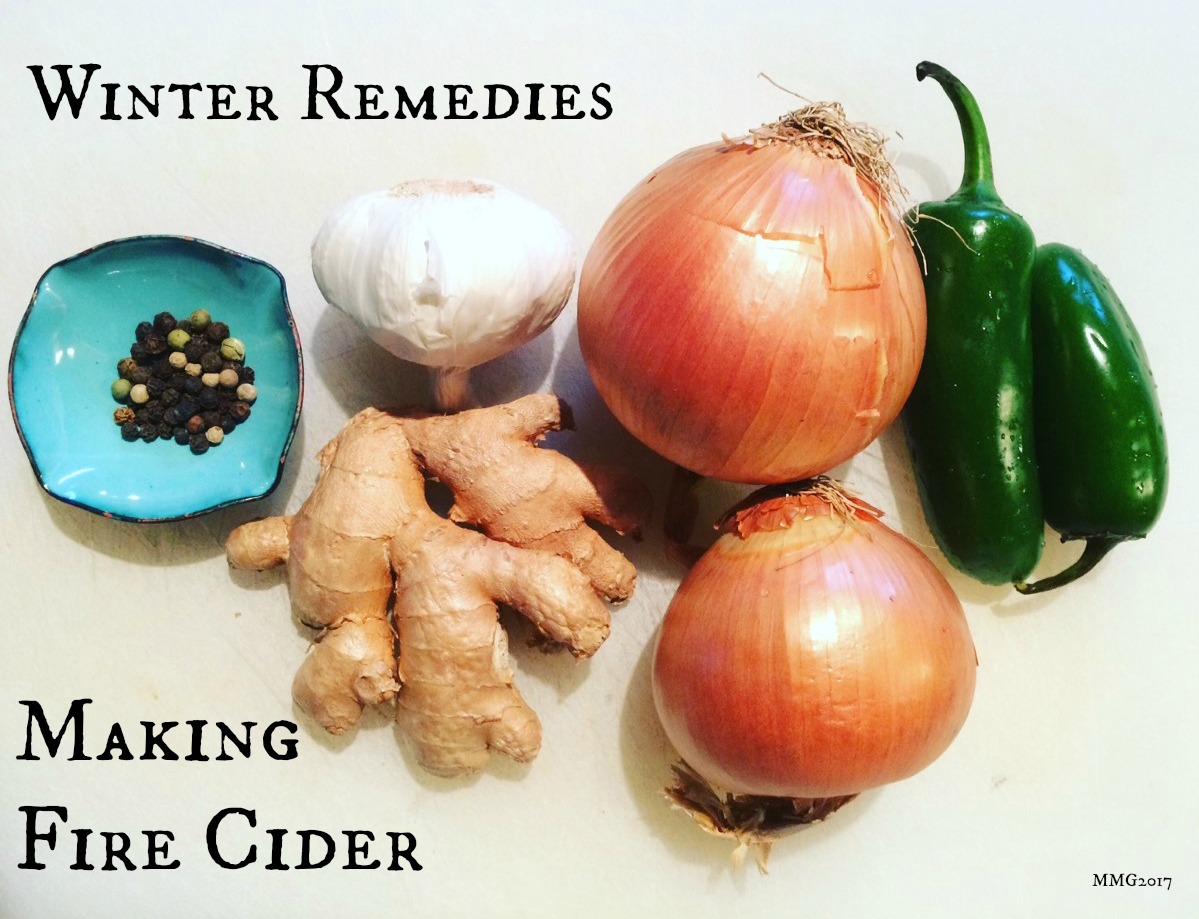 Fire Cider
1 quart canning jar
1 large bulb garlic, peeled
1.5 large onions, peeled
1 large hand of ginger, rough outer layer removed
2 large jalapeno peppers, do not remove seeds or membrane
1 TB whole peppercorn
1 TB powdered turmeric
1/2 TB dried oregano
1/2 TB dried rosemary
Unfiltered Apple Cider Vinegar – I use Bragg's.
When you're shopping for ingredients, fresh and organic is always best and be sure to wash them prior to chopping. I opted to use dried turmeric, oregano and rosemary as I had a ton of it on hand, but you can use whatever you have.
Wash your canning jar and boil in hot water to sterilize it (10 minutes is fine) and let cool while you chop.
Chop all of your ingredients into small pieces so that you have a lot of surface area. The idea behind this is that you're going to increase the nutrients that steep into your vinegar, making a stronger, more flavorful final product.
Add all of the chopped up ingredients to your cooled mason jar and top with vinegar. It should be well packed, but not too tightly; you want your ingredients to move around a little. Add a lid and sit back and wait.  You'll let this bad boy steep for 2-4 weeks, shaking it gently every day or two. You can let it go longer, but I hate waiting.
Strain all of that goodness with cheese cloth over a sterilized bowl and wring out as much liquid as you're able to get from the pulp. Pour the strained liquid into a sterilized pop-top bottle and you're good to go! You can add 2-3 TB honey at this point to sweeten it up, or leave as is.
I drink 1-2 TB a day when I start to feel sick, or if I've been around sick people; and 4 TB (1 TB every few hours) a day when sick. As it's spicy and tart, I don't drink it on an empty stomach.
If adding to your Bloody Mary mix, use 1/2 to a full shot glass worth which will spice it up nicely.
Next batch, I think I'll add nettles for its benefits on inflammation and allergies.
As always, with any change or addition to your diet, or using herbal remedies, consult a doctor before trying anything out.
What are your go to remedies to stave off germs?
Yours in herbal goodness,
Raina