I love jam.
I love it even more when it's cold and rainy out, and I am missing summer and spring and all of the fresh fruits. Luckily, fall and winter means that cranberries are everywhere, and I can make a quick jam that brings a little sunshine my way. It's a little jar of tart, sweet, and a great combination of winter from the warming flavors of cinnamon and vanilla, but bright like summer from the oranges and Cointreau. It comes together quickly and makes a great last minute gift, too!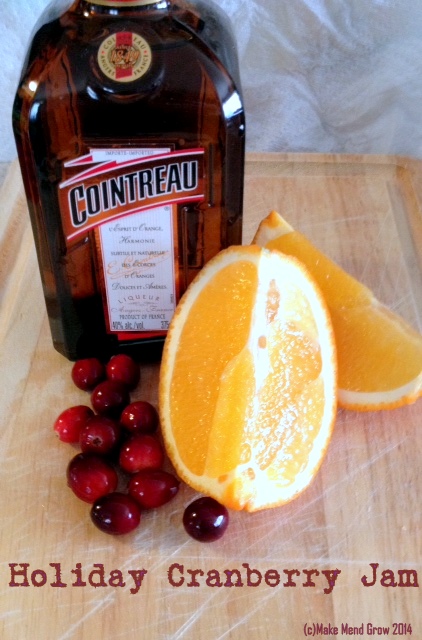 2 packages (24 ounces total) rinsed organic fresh cranberries, soggy/bad ones thrown out, any remaining stems removed
2.5 cups sugar
1-2 large very ripe orange, juiced (approximately 1 cup juice)
1/2 c Cointreau or other orange liqueur
1 Tb vanilla bean paste, I use this one (affiliate link)
1 tspn cinnamon
In a dutch oven, or heavy pot with a thick bottom (I prefer my dutch oven), add your cranberries, orange juice and liqueur, and turn the heat onto medium. Once your mixture is warmed through, add your sugar, vanilla bean paste and cinnamon, stirring with a wooden spoon. Cook slow and low, keeping the heat at medium low, until your cranberries start to break down and quickly pop when you poke them with a spoon. Continue to cook, approximately 20 minutes until you have a nice chunky, delicious smelling pot of tastiness.
If you're canning this prefer a thick well-set jam, add 1/2 packet of liquid pectin and cook for 5 more minutes at a low simmer. Process jars according to the jar manufacturers directions and enjoy! If you're canning this, it makes 6-1/2 pint jars.
I love this with cream cheese on crackers or spooned over french toast!
What is your favorite holiday jam?
Best,
Raina