Lately, the weather has been…well…all over the map. We'll have a day or two of what feels like summer, and then BAM! It's clearly not summer. Mother Nature? You're a tease!  A few days ago, I was coming out of my car in June, trying to escape big rain drops, while wearing a sweater and a thick coat.  I wanted something warm, thick and soothing. I wanted soup.  I was also too lazy to go to the store after dealing with the gloom, so I needed something quick and that I could pull out of my pantry or garden. In looking at my garden, my greens were out of control, and I needed to thin them out.  I had leeks and I knew there was pasta, beans, a little turkey and carrots and celery in the fridge.


Mmmm….Ribollita.  This is a yummy, hearty, rustic veggie soup that makes the best use of whatever random veggies you have on hand. The end result of the soup is that everything is cooked, but not so much that the veggies are over-tender.  If you don't feel like cooking up everything after a long day, you can throw all of the items together in a crock pot, adding the beans and the pasta later.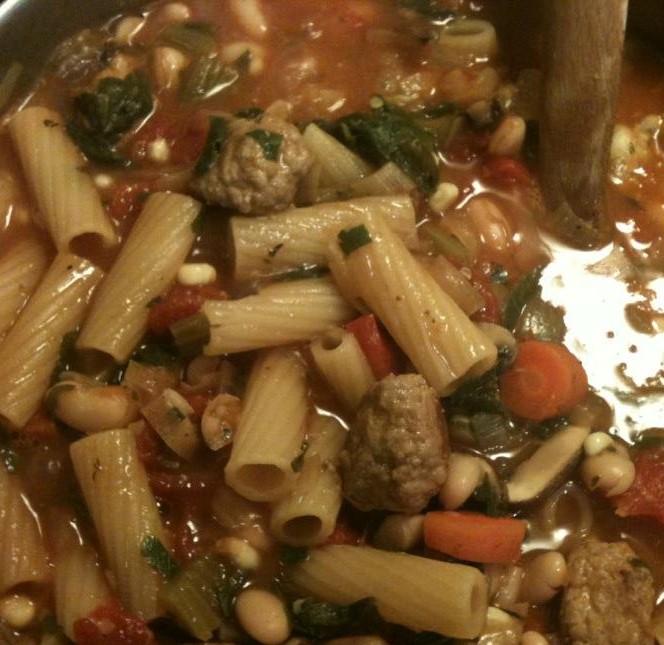 Meat wise, there's a lot going on with this soup, so you can take the addition or leave it. I happened to have a fist full of ground turkey on hand, so I made small meat balls, and set those aside. I have also used ground meat, and cooked it within the soup adding more flavor. You really can't mess this soup up, which is the nice thing about it.  


First up, gather and prep-note this is in the order I used everything:
I start with one leek, sliced in half long-wise and sliced up. How thick you want it depends on your taste.  Keep in mind, this will be cooking the longest. 
One small onion, diced
Garlic, minced. I LOVE garlic, so mince as many cloves as you like.
Olive Oil-about 2 Tb
Oregano-I like fresh and used two large springs about 3 inches long each
Dried thyme (or fresh, if you like), I used a quarter sized pinch that was rounded in the palm of my hand. Again, this is to taste
Salt and pepper.


While I was chopping the onion and leek, I was heating up my oil. Once hot, drop the garlic in and get it moving in the oil. It should sizzle a bit, but not brown too fast. After a couple of minutes, when the garlic is starting to become off-white, throw in the onion and leek, tossing it in the oil. Add your salt and pepper now. You'll want to sweat these for a few mins.
While this is cooking up, prep the following veggies.
3 large carrots
3 ribs celery
Open 1 28 oz can of tomatoes, or 3 large beefsteak, diced
4 cups liquid-ideally stock
By now, your onion/leek/garlic is looking nice and ready. Add your carrots and celery and toss with the other veggies. Add your tomatoes and add your stock-I always have 2 cup bags in my freezer ready to go. You'll want about 4 cups of liquid. Only have a couple cups? No worries, there's lots of flavor coming from other veggies, so you can add water. I keep a cup or two of extra water handy, since the water level will go down as this cooks.
Add your thyme and oregano at this time.
Let this come to a gentle roll, and relax for a few. You'll want to give it about 10 minutes.
Chop: 10 mushrooms-you can get a lot of flavor out these guys, so feel free to mix it up. Throw in your mushrooms. At this point, you're about 20 mins into your soup, or at least 1 glass of wine, if you're like me 🙂
Your soup should be getting thicker and the liquid level should be coming down. Keep adding enough liquid to keep the soup covered with extra room for additional veggies/pasta.
It's testin' time!  Pick a veggie-are they firm, but no longer raw, almost cooked well?  Now's the time for the next step! If not, pour yourself some more wine and give it another 5-10 mins.
Wash and chiffonade your greens (a schmancy way of saying roll it, and run your knife through so it looks like green ribbon)-I like a few large bunches, but it can be to taste. Add and cook for 5-10 mins, longer for thick greens like kale.
After 5-10 mins, I check the greens; if they are close to tender, I am ready to move to the last steps. If not, keep checking on it every 5-10 minutes until the greens are cooked almost all the way through. Keep in mind, you'll be cooking the pasta in the dish.
Throw in your favorite pasta and cook to the makers directions or however you like your pasta. When there's 5 minutes left, add 1 15 oz can of cannelloni beans (drained and rinsed) and your meatballs, if adding any.
Once the pasta is done, your soup is done!  I like to add chunks of old bread and parmesan to the top. So good.
What's your yucky weather, go to dish?