Hello dear readers!  I hope the holidays were good for you and that you have all been doing well!  2016 FLEW by, as did our holiday and time off. While I'll give a recap of all that we did with our time off later this weekend, I wanted to share with you all that we ate for Christmas, and highlight some delicious wines that we tried, so that you can run out and try them for yourselves. There will even be an easy appetizer recipe that pairs perfectly with the wines, too. Are you ready for my recap of Christmas with Maysara Wines?
As you know, when my family cooks, we usually get a little crazy and cook too much. This Christmas we tried to dial it back a bit; I think we did pretty well!
Christmas 2016 Menu
~Breakfast~
Russian farmers cheese, bacon, and leek tart
Pomegranate-blackerry mimosas
~Dinner~
Appetizers:
Deviled eggs-regular and habenero
Caprese skewers
Bacon wrapped dates with blue cheese (recipe below)
Drinks to accompany our appetizers:
2013 Scarlett and Mac Chardonnay
Georgetown Brewing's SparklePuss IPA
Main Course:
Honey and Orange Glazed Ham
Sides:
Mashed potatoes
Curry spinach salad
Brussels sprouts with bacon and balsamic reduction
Drinks:
Maysara 2012 Jamsheed Pinot Noir
Georgetown Brewing's BA Not Tom Rye Stout
Dessert:
Key lime pie
Chocolate bourbon pecan pie
The dinner came together perfectly and since we didn't have 20 separate dishes, we spent less time in the kitchen and more time chatting as a family.  We lazily ate and sipped wine through the late afternoon and evening, and listened to music. It was wonderful and I can't think of any other way to spend the day.
Day After Christmas Feast
Normally, we put together a pretty big spread for Christmas eve, but between long hours at work and fighting illness, we just didn't have it in us to cook an elaborate meal for Christmas eve. Instead we took advantage of the time and prepped cassoulet, which we then ate on the day after Christmas.
Wait. You haven't had cassoulet??  It's a delicious, indulgent French dish with duck confit, pork,  sausage, herbs and white beans. It's a labor of love and if you have the time, it's a wonderful treat to make. We loosely followed an old Jacques Pepin's recipe, but this one is also a handy guide.  We made our own duck confit, substituted a double smoked sausage instead of making our own sausage, and to add an extra layer of richness, we braised the pork butt in bacon fat, almost making a pork confit.  Meat cooked in its own fat (or with a little extra fat) is good guys, calories be damned.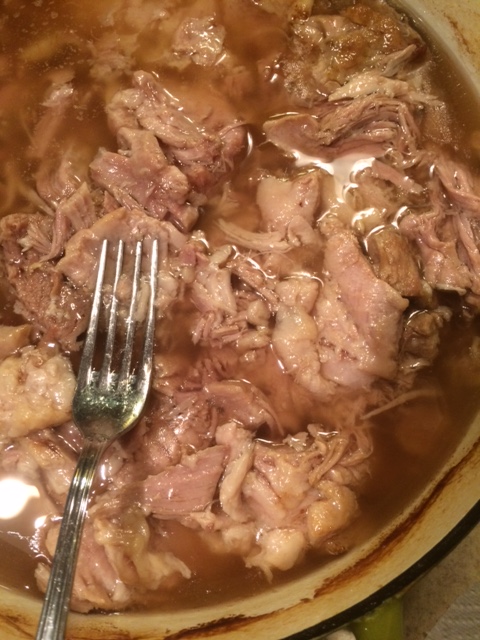 The richness of the cassoulet only needed a simple salad with spinach, pears, candied walnuts with a light vinaigrette. We happily sipped Maysara's  2010 Asha Pinot Noir, an amazing accompaniment which cut through the fat in the cassoulet but also stood up to the bite of the vinaigrette.
Overall, I'd say that we ate well this holiday and I've ignored the scale just in case. We spent our energy by prepping the time heavy meal slowly and over time, so that the flavors built on each other and that was definitely the right call.
Now, here's more on those wines, followed by a super quick recipe that you should try with both wines. I'd love to hear what you think!
About the wines:
The 2012 Jamsheed Pinot Noir was outstanding, and at $30 it's a nice bottle to have for a holiday or a special day, that's still affordable. It's slightly spicy, earthy with dark fruit. It's soft on your tongue in that it doesn't overwhelm, with a touch of acidity. It stood up to the variety of foods, but went well with the sweetness of the ham. This was definitely my favorite wine of the night and the holiday.
Coming in at $39 the 2010 Asha Pinot Noir was also a hit. With a glass cork, you feel like you're getting a  treat! It was interesting how different this Pinot Noir was to the Jamsheed. Still earthy with dark berries, but more rounded and floral than the Jamsheed. The tannins cut through the fat, but the flavor isn't lost to the duck, nor the smoke of the sausage. If anything, the flavors were reflected more in the wine. Again, another solid wine that I enjoyed.
Now, for the quick recipe. I love  these bacon wrapped dates (you could also use slices of pear in place of the dates and a slice of heartier blue cheese to mix it up). These pair quite well with the Jamsheed Pinot Noir!
Bacon Wrapped Blue Cheese Dates
Makes 10
1/2 lb bacon, cooked until the fat starts to drip but not crispy (6-8min.)
10 dried, pitted dates
Soft blue cheese (Trader Joes has a good one!)
Cut the strips of cooked bacon into 4 pieces each or less if you want more bacon
Open the dates. There is usually a cut along one side, but if not, just use a knife and slice half way through the dates, so you have a place to put the blue cheese.
Scoop in some of the blue cheese using a small spoon, or your fingers.
Wrap with bacon and pin with a tooth pic.
Bake for 8 minutes at 350 degrees to finish the bacon and make the dates a little softer.
To finish, drizzle with a little honey, or balsamic vinegar.
Let cool slightly and enjoy!
A hearty thank you to Dominic and all of the folks at Maysara winery for helping to make this holiday particularly special. While I did receive these wines to try and this is considered a sponsored post, I do highly recommend these wines and cant wait to share one more recipe featuring their wines soon!
To you and yours, and delicious food!
Raina