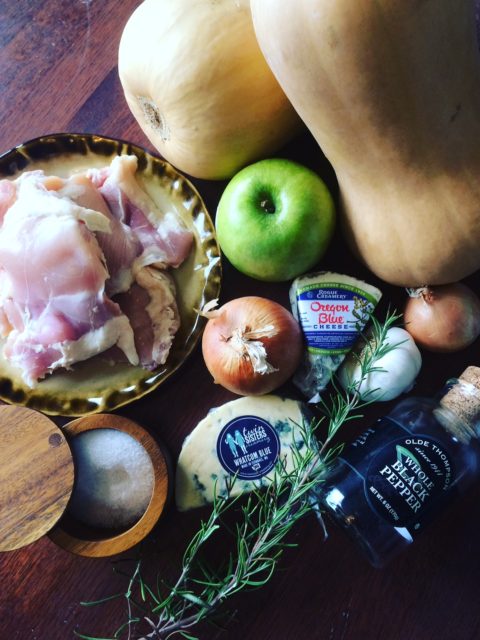 Fall hit here pretty quickly in Seattle; cool winds replacing the abnormally high summer temperatures. The leaves are changing and starting to fall and this week promises rain. I've been scurrying around the gardens, picking  the last of my tomatoes, hoping that whatever is still green has time to ripen. The air is crisp and the sun is setting earlier and earlier, which means it's time for soup. Enter: my Blue Cheese Butternut Squash Soup with Chicken!
This recipe is flavorful, easy to make, and while it tastes rich, is surprisingly low in calories. You can add more ingredients to make it more hearty, but it's perfect in its' simplicity. I usually make a double batch, freezing half, to enjoy late into the winter when I am too tired to make a batch of soup. Roasting the vegetables in advance brings depth of flavor to the soup, but isn't necessary if you're in a rush for a bowl of warm, creamy comfort.
Let's start by gathering our ingredients:
4-5 lbs of butternut squash, cut in half with seeds removed, and roasted (see prep notes)
2 lbs chicken thighs (breasts, if you're wanting less fat/calories), cut into bite size pieces
1 cup white wine
64 ounces chicken stock
1 lb mushrooms
1 green apple, diced
3 medium yellow onions, diced and roasted (see prep notes)
1/2 head of garlic, peeled and roasted (see prep notes)
1-2 sprigs of rosemary
1 large bay leaf
1/2 lb of bacon, chopped, drippings reserved (substitute 2 Tbspn olive oil if you do not wish to use bacon)
Salt and pepper to taste (about a teaspoon each)
Low fat sour cream, for garnish
3-4 ounces blue cheese, sprinkled on top
Optional: 1/2 lb chopped kale for more heft and nutrients
Prep:
Roasting makes everything better-the flavors become more pronounced and it brings out a richness to the squash you wouldn't get otherwise. To do this, coat a cookie sheet with olive oil and lay out your squash, roasting at 350 degrees for 50 minutes. While that cools, roast your onion and garlic for 10 mins at 350 degrees, or until  they start to turn golden. Set aside.
Cook:
In a heavy bottomed pot, fry the bacon until crispy, removing from the oil when done. Add your chicken pieces, and cook until browned. You can avoid using bacon and instead brown your chicken in 2 Tbsp olive oil if you wish (I love bacon, but this does add fat, sodium and calories to the dish). Pull out your chicken and set aside with the bacon.
See all those delicious bits on the bottom of your pan? You want those. All of those tasty bacon-chicken bits add flavor! Add 1 cup of white wine and scrape the bottom of the pot-the finished soup (and your belly) will thank you for deglazing everything!
Add your roasted squash to the deglazed pot by scooping the meat of the squash out of the skin. Add your onion, garlic, apple, salt, pepper and stock to the pot and let simmer for 20 minutes until  everything starts to fall apart, stirring occasionally. At this point, you have a choice-you can use an immersion blender to make everything creamy and smooth, or leave it as is for a soup with a little more texture-I prefer to blend the base, personally.  If you do opt to blend, pull out the rosemary and bay leaf.
If you're using kale, now's the time to add it, cooking for 15 minutes. If not, move to the next step.
Add your chicken, mushrooms and your bacon and continue to simmer for additional 20 minutes, or until your chicken is cooked through (no longer pink, registering 165 degrees, if you want to get technical).
Ladle into a deep bowl, adding blue cheese and sour cream. Enjoy!
That's it!  This soup will taste like you spent hours making it, and will fill that craving for a warm delicious soup to warm you up as the weather changes. What could be better?
Note:
Some people do not like blue cheese and I get it!  It can be strong and for some, overpowering. If you fall into this camp, substitute Parmesan, adding the rind in when you're cooking your kale and chicken and pulling out when you're done cooking. Top with grated Parmesan at the end.
I want to thank Foster Farms for funding this post. Their Simply Raised chicken are raised without antibiotics, hormones, or steroids, which is important to my family. Additionally, they are American Humane Certified and local to WA, OR, and CA, so there's less impact on the environment!  Foster Farms also has organic options, which are available at most larger grocers and Costco (again, who doesn't love Costco?!). For more information on Foster Farms, their products or their practices, check them out here. Again, this post is sponsored by Foster Farms®, the opinions expressed are my own.
Yours in delicious fall flavors,
Raina