I don't know about you, but I'm beat lately. Maybe it's the change in weather, being a mom-who knows.  I love the idea of a long luxurious bath, where I can take the time to exfoliate, and buff and do all the good for my skin things that I know I should do, but sometimes there just isn't enough time.
Enter, my sugar soap scrubs.
I'm telling you, these double duty bad boys are just what the tired momma ordered. This is soap, scrub, oil and scent all in one. I can start my day with my Wake Up scrub, or rest in a hot bath with my Simmer Down scrub. 10 minutes either way, and my skin is soft and I am feeling ready to either take on the world, or take a nap, depending on what scent I use. I also love quick crafts and it's super easy to put together if I need a gift for a friend.
Interested? Read on! Too tired to craft? Leave me a comment below and you could win a jar of Wake Up or Simmer Down shipped to your house! Just tell me which is your favorite and why!
Tired Momma's Wake Up Scrub
Gather the goods-includes affiliate links where you can get them and have them shipped straight to you-could it be any easier?
Pint jars with plastic lid-plastic is best if you're going to keep them in the shower
Dr Bronner's Organic Castile Liquid Citrus Soap
Plain white sugar-go store brand on this guys
1 Tbsp Olive Oil
Essential Oil-10 drops each of: Lemongrass, Wild Orange, or any other citrus type oils-I really love the oils from doTERRA and Dandelion Botanical Company (yay for supporting local business!)
Glass mixing bowl (pro tip: if you use essential oils in a plastic bowl, your bowl will smell like that forever….stick with glass!)
Spoon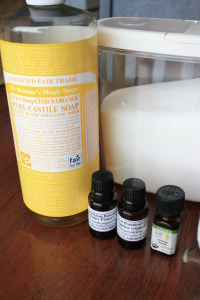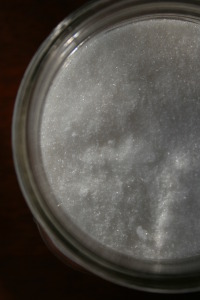 The hardest part of this whole craft is accurately measuring out the sugar. As you add the soap and the oils, the sugar gets a little melty, so keep this in mind when  measuring it out. Fill your pint jar with the sugar and pour into your glass mixing bowl, fill the pint jar 1/4 of the way up again with sugar, and add to your bowl.
Squeeze out 1/3 cup of your Dr Bronner's soap, add your oil and the drops of essential oil and mix, mix, mix until incorporated. I like using a spoon, since this mixture sticks to you, but it sure is fun to get my hands in there and squish it all together (plus I get a little beauty treatment)! The end result is that you want something fluffy and goopy, and throughly mixed, so it's not dry. Like this: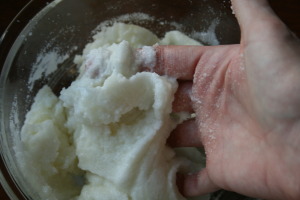 Spoon back into your jar and slap the lid on. That's it, you're done!
To use: Scoop some out while you're in the shower, and scrub away gently. Rinse as you would regular soap.
Some of my other favorites are the Dr. Bronner's Lavender soap with lavender essential oil. This stuff is a nap in a jar-so lovely.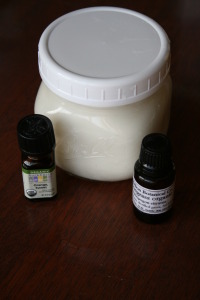 The disclaimers, just in case: Your eyes don't like soap, so avoid that area. It's smells delicious, but don't eat it. Also…there's a touch of oil in this, which means your tub could get slippery, so be careful. 🙂
Scrub on guys!
Raina