There are a few things that I know-
There's nothing better than a sunny day in Seattle
Happiness is a house full of friends gathering to cook, drink and chat while a herd of small children occupy themselves.
A Bloody Mary and Margarita bar makes the first two things, well, even more perfect.
Recently, I had this trifecta come together perfectly when I gathered a few of my chef friends together. Our kids were antsy from all the rain and being cooped up indoors for way longer than any parent can handle. We had been craving a chance to get together with the need to celebrate the sunshine with a good cocktail (or two). I sent the solution in text form: "Come over to my house. Margaritas, Bloody Mary's and steak tacos. I've got you covered".
Like a moth to a flame (or an over tired parent to a chance at a break), my friends flocked. We laughed, as we ate salsa and guac – "Do you remember the days we used to hit Capitol Hill, and get a proper drink?" We all nodded, recalling our days at any of the local dive bars, before kids, long hours and the gentrification of our favorite haunts changed our social calendars. We paused, and before any of us could get out a grumble or mutter something that made us sound like one of our parents, I came to the rescue. Well, me and Demitri's, and I started mixing up a storm.
Who is this Demitri's and why should you stop what you're doing and seek them out?  Demitri's is a Seattle based purveyor of gourmet cocktail mixers founded by Demitri Pallis, who like most of us, was tired of inconsistent cocktails, so much so that he started making his own mixers. That's right folks – when you can't get what you want, you do it yourself. What started as a need 30 years ago, turned into a hail mary for those of us who just want a good cocktail without leaving home.
Why else? They aren't just local, but actually in my neighborhood – I see them hiring my neighbors. That kind of community approach is important to me. Plus, they use ingredients I can actual pronounce, with organic options and for those of you in the need – there's gluten-free options, too. Also, since I can never commit to one flavor of anything, they have me covered with a variety of mixers like original, chilies & peppers, extra horseradish, and chipotle habanero. Still not convinced? Two words: Pepperoni. Straws. YES – a meat straw, It's perfect! Lastly, you can find them almost everywhere, and if you can't locate them close by, Amazon carries them too!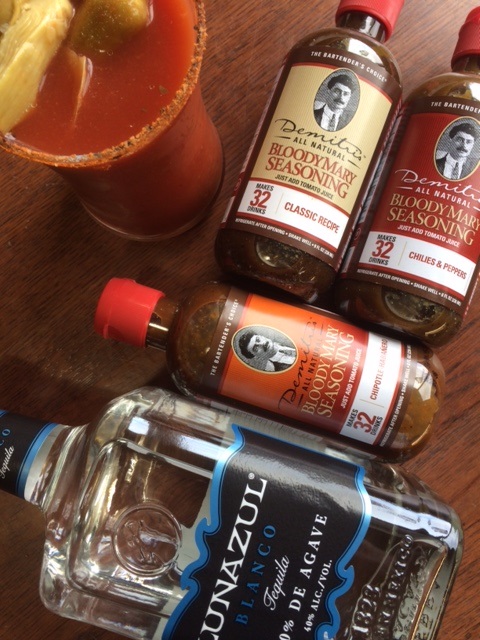 I put together my garnish skewers in advance – combining olives, pepperoncini's, pickled cauliflower, and pickled okra. I've added blocks of cheese in between the pickles – it's up to you, although a cube of blue cheese goes SO well with the extra horseradish mixer.  I also coated my glasses in advance with Bacon Salt Rimshot – their rim salt, to cut down the amount of waiting we'd need before enjoying.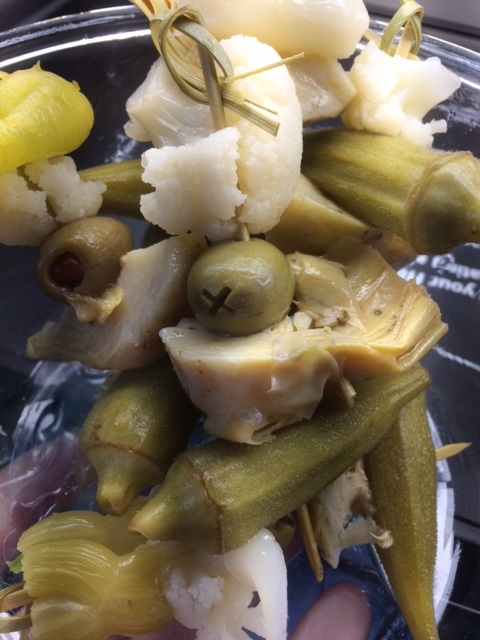 Momma's Bloody Mary
We made ours to order, so this recipe makes 1

8 ounces tomato or vegetable juice
1 teaspoon Demitri's mixer (more if you like a stronger flavor)
1-2 ounces vodka (or an equal amount of tequila for a Bloody Maria)
Juice of a quarter of a lime
A few cubes of ice
The key to this is make sure your ingredients are all chilled in advance, there's nothing worse than a warm cocktail. Mix all ingredients up, and pour into your glass, add in the pepperoni straw and your garnish. Stir, sip, nibble. It's super simple!
Since I know that once the Mary's are gone, you'll need something a little sweet, I have you covered there too.
Tangerine Dream Margaritas
Makes 4
2 cups fresh squeezed tangerine juice (approximately 8 tangerines)
6-8 ounces tequila
16 ounces of Demitri's Organic Traditional Margarita Mixer
Juice of 2 limes
4 glasses, rims coated with Demitri's Pomegranate Pineapple Lime Margarita Rim Shot (y'all need this stuff)
Garnish with tequila and chili powder marinated pineapple chunks (see below).
Spicy, Boozy Pineapple.
My pal Lauren came waltzing into my kitchen, eyes sparkling, like they do when she's done something amazing. She held up a jar of something swimming in clear liquid and spices. "Here", she said, "Smell!". It was sweet, spicy, pungent and just what our cocktails needed. She had cored and diced a small pineapple, popped the pieces into a mason jar, added a 1/4 tsp of Tajin (a spice blend of salt, chili powder and dehydrated lime that you often find on grilled street corn), topped that whole thing with tequila and let it marinate. When you're ready to use it, pull out a piece of pineapple and skewer it.
Combine all ingredients in a pitcher, pour equally into the 4 glasses. For your lushier pals, you can float some of that spicy tequila you used to marinate those pineapple pieces on top for an extra kick. Go on, we won't judge you.
Sit back, sip and smile – You're welcome.
So there you go! Easy, right? The great thing about those mixers? You don't need to use them solely for cocktails. The chipotle habanero was an awesome addition to a marinade for the asada I used for my tacos. Two teaspoons of mixer, a 1/4 cup of red wine vinegar, a drizzle of oil a pinch of salt and a tablespoon of cumin and I was good to go. It's truly versatile.
Of course, the disclaimer! I did receive compensation for this post – that being said, I will never recommend any product that I do not wholeheartedly trust and enjoy. Additionally, I may receive compensation through affiliate links, which keeps me in bacon and happiness.
Yours in your momma happiness, fueled by some pretty darned amazing cocktails,
Raina