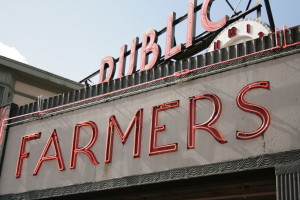 I love playing tourist in Seattle, even though I have lived here for over a decade. One of my favorite places to play is at Pike Place Market. Each time I go I find something new, meet a new vendor, or spot a new treat I have to pick up!
Recently I had the opportunity to check out Eat Seattle Tours and get a chef's inside view of the market. While this is a sponsored post, I loved the tour and enjoyed meeting the team so much, I would recommend the tour no matter what. It's THAT fun.
Eat Seattle Tours is a new comer to the food tour group, offering a walking tour of the market with amazing (large) samples, and great knowledge of the farm to table movement. The tour, led by Chef Cris, is an intimate glimpse into the backbone of the market-the vendors.  It's like walking around the market with a friend, who happens to know darn near everyone in the market. It's your backstage pass, to delicious and sustainable food. The groups are kept purposely small, so you can really enjoy the experience and ask questions. It's such a great time.
The tour started out at Café Vita for a warm cup of sustainably grown coffee and a lesson about what makes Café Vita so great; that they follow their coffee from farm to cup. They know where the beans are grown, and the care that goes into them. They pay above fair trade pricing, which means a livable wage for the farmers. All of this means coffee that you can feel good about drinking!  If that wasn't enough, the cafe is lovely, warm, encouraging you to sit and stay. They even promote local artists on their walls.
Next, we ventured down to Beechers Cheese to learn a little bit about the history of the building, what Beecher's does to be a little more green, and how they leverage the gravity of the hill to pump milk into the building. These guys keep as much of the energy in the making of the cheese as possible. We had three amazing samples, starting with a large block of Flagship. We then had their wonderful cheese curds, followed by their amazingly creamy mac and cheese. The cheese is made from milk straight from Duvall here in Washington, and made right in front of you via a large window. It doesn't get much better than this!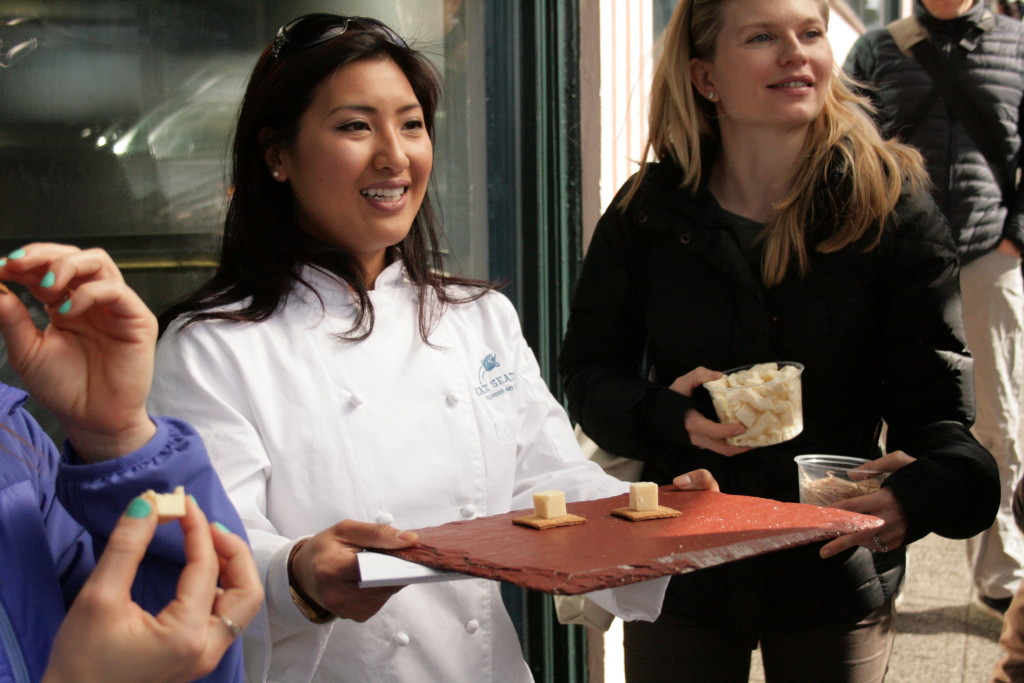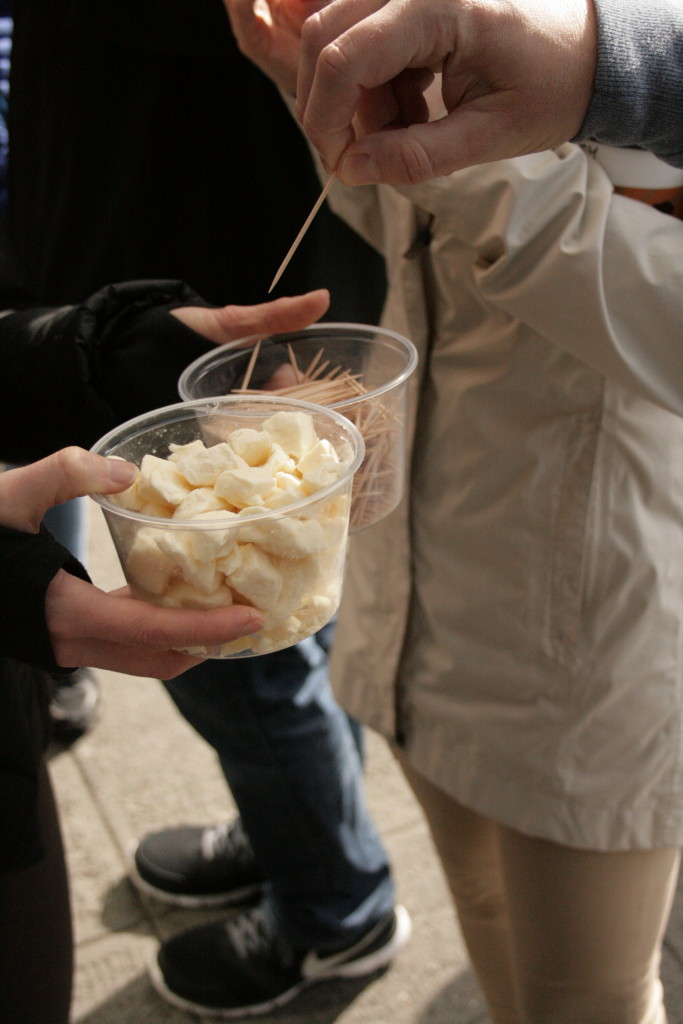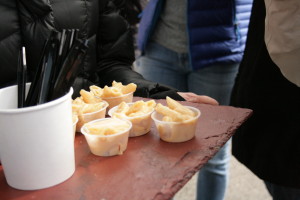 We crossed the street to learn a little more about the history of the market while snacking on one of Chef Cris' creations; a leek, morel and cauliflower tart. It was simple, yet full of the amazing flavors that the Pacific Northwest has to offer, all gathered from Frank's Produce (one of my favorite vendors!).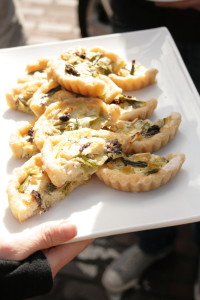 Moving our way over to the main entrance, our history lesson continued, as we learned about how the dynamic of the market changed with the internment of many Japanese farmers. Did youknow that once the interments were over, many of the farmers didn't return to the market? In some cases, some never came back to Seattle, understandably so. We also learned that the market has it's way of caring for its own, with great financial aid programs, a Senior Center, daycare, and amazing support of the vendors. Maybe you've seen Rachel, the Pike Market Pig? She's one way that the market continues to support itself and others. You can read more about Rachel, here.  This again is what makes this tour great; You linger with each sample, and hear about the heart of the market-you get so much out of it!
We made our way to the Pike Place P-Patch-you didn't know it was there? That's ok, I didn't either!  The Senior Center has their produce out there, as does Eat Seattle Tours, and the view can't be beat. We had chai tea creme puffs, made by Chef Cris with Chai tea from Market Spice Tea. The creme puffs were delicate and perfectly spiced; I am definitely putting those on my list of things to make!  Elizabeth, our host, followed that up with a lesson about the P-Patch, and treated us to carbonated grapes. You read that right! Grapes that had been pumped full of carbonated juice, so when you bit into them, they burst in your mouth in a fizzy, juicy way that was so satisfying. Man, I love science and food.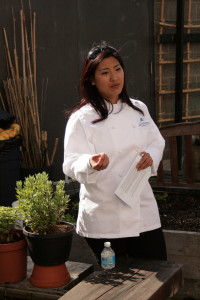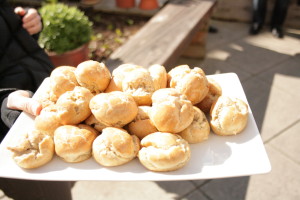 Next up was BB Ranch meats, for some yummy cured meats and a chat about their dry curing process. I was even able to take a picture in their meat locker! If you haven't stopped by, please do. In addition to having some top-notch bacon, the guys will do their level best to find you what you need, even a goose super close to Christmas. Not that I would know anything about procrastinating (ahem)…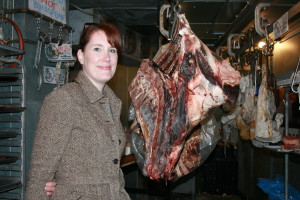 On the way to our next stop, we passed by Uli's Sausage while they were closed, I want to call out that you NEED to come here. The bratwursts are amazing for any BBQ, and their andouille is outstanding for gumbo. They have so many different varieties, you can't go wrong with anything you pick up.
We continued on to Pure Food Fish Market, where we met the staff and had some amazing alder smoked King salmon that just melted in your mouth; so good! Elizabeth and the crew at Pure Food talked to us about their fish, and sustainability practices. You can really tell that folks at the market and with Eat Seattle Tours, don't just care about how the food tastes (they do), but they also care about how the food is grown and its' impact on the environment.
We wrapped up our tour on a sweet note, at Indi Chocolates. Oh man…you walk into Indi Chocolates and you're instantly surrounded by chocolaty goodness. The beans are sourced direct from the farmers at…wait for it. A LIVING WAGE. The cacao beans are roasted on site as well as close by, and all of the products are made locally too. We tried beans fresh out of the roaster, chocolate lip balm and finally rich, dark chocolate.  It. Was. Awesome.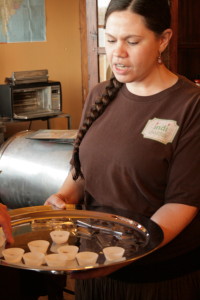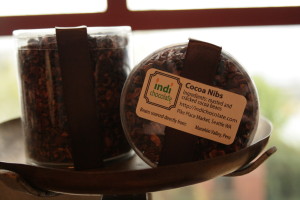 After two hours of talking, laughing, and eating, we were done, leaving happy and full and with a renewed passion for the market.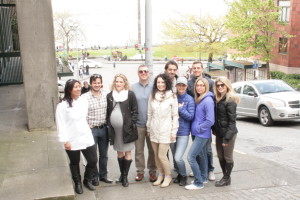 Are YOU ready to get hungry and check out Eat Seattle Tours?  Go to their website here and enjoy! Come back and tell me your favorite part!
Yours in food,
Raina