Initially, I started this post to share my yearly menu and a cocktail recipe with all of you, but as we near Thanksgiving, I can't help but think about how grateful I am this year. Mom is doing well with her cancer treatments, Izzy is thriving in school, work is busy and I have a roof over my head. I am healthy, happy and loved. There is just so much to celebrate and to be thankful for. I hope all of you are doing well, and are finding moments to be grateful!
This year, I am hosting Thanksgiving at my house, and while it's just a small gathering, I'm going all out! I may be an overachiever, and diet be damned, it's going to be good. Here's the line up and a couple recipes for you as well, should you need ideas!
Thanksgiving 2018 Menu:
Breakfast:
Wild mushroom, leek and ham quiche
Coffee and a lot of it to get me through this cooking
The Main Event:
A 22 lb turkey – I'll be slathering a butter/dried wild mushroom mixture all over this beast, as well as under the skin directly on the meat
Chanterelle mushroom dressing
Candied yams – none of that canned stuff, oh no – actual yams, coated in butter and brown sugar
Green beans with bacon
Mashed potatoes
This amazing cranberry sauce, which combines fruit and booze – you can't go wrong.
Rolls
Deviled eggs
All coated in a gravy made from those delicious turkey drippings.
Dessert:
Golden Delicious heirloom pumpkin pie
Irish apple tart
On Tap:
Ledger David's Savignon Blanc
Wind Gap's old vine Grenache
Sidonio D Sousa's Espumante Brut Nature Special Cuvee, because you always need something bubbly
And lastly, my new favorite, what we're calling The Fall Fling – read on for the recipe!
The Fall Fling
1/2 ounce of St Elizabeth Allspice Dram (or other allspice liquor)
1/2-1 ounce of bourbon
1 cup apple cider
1 squeeze of lemon
Ice
Combine all ingredients, shake and pour through a strainer, easy right? I garnished mine with cherries that have been soaking in bourbon (which are technically for Christmas, but REALLY freaking good), but you can pick any garnish you want.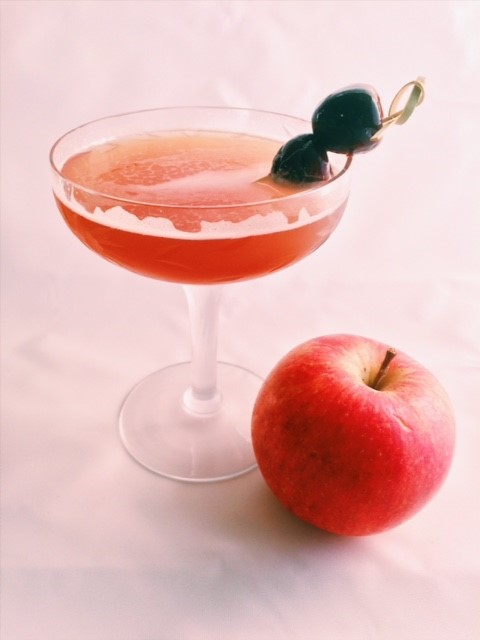 Mmmm…..This holiday is looking to be delicious! What are you all cooking and eating this year and what are you most grateful for?
All my best to you and yours,
Raina