I love wild game, and any chance I can get to cook with it, I take! I was excited to work with Marx Foods and come up with some fun recipes using their New Zealand venison.
A little on Marx Foods-you know how I love working with local businesses; Marx Foods is based here in Seattle, and supplies top rated foods that they test before offering. You're not going to get stuck with something that isn't amazing. There's a brick and mortar shop just over in Queen Anne, but there's a world of delicious items to be found on their site. I also love the idea of choosing foods that are sustainable, well-raised, and do not contain added hormones, or antibiotics. The Cervena venison from Silver Fern Farms fits that bill and is lean, delicious, and easy to work with. It's a great alternative to beef, and has a lovely game flavor, that isn't overwhelming. My belly? Happy.
I tried the 8-Rib Frenched Rack and the venison leg medallions– one pack was enough for a dinner party and a Sea Hawks party. Are you ready to see how to put together two easy meals? Read on!
First up was my dinner party meal, Grilled Venison Medallions with Gin Sauce.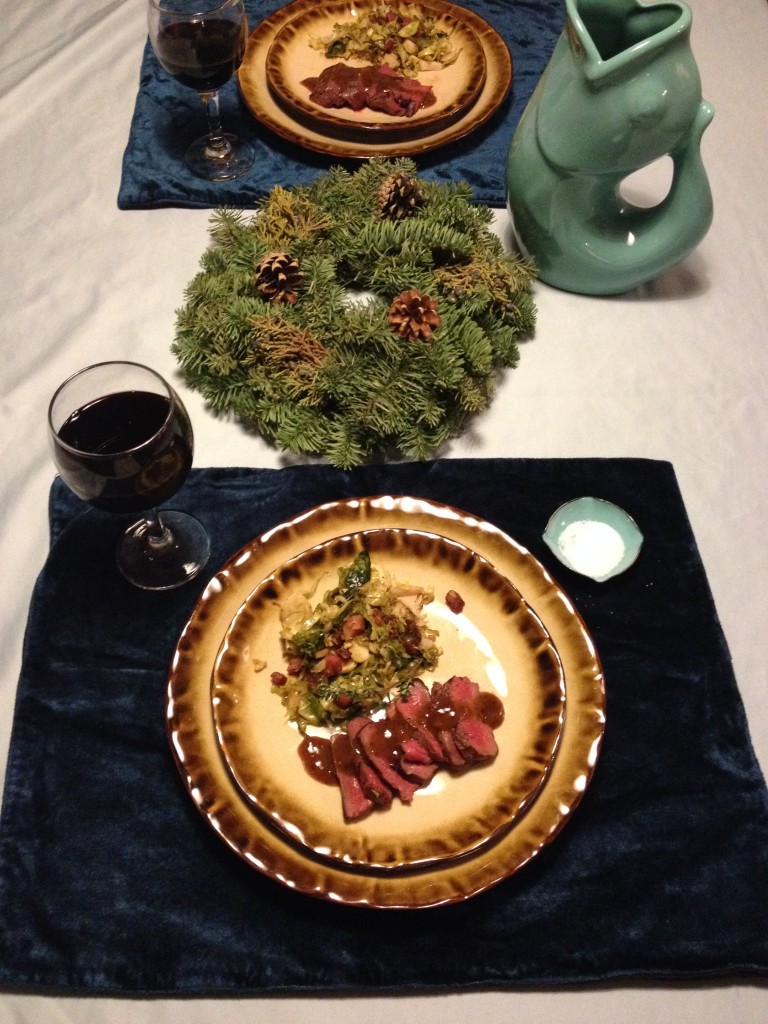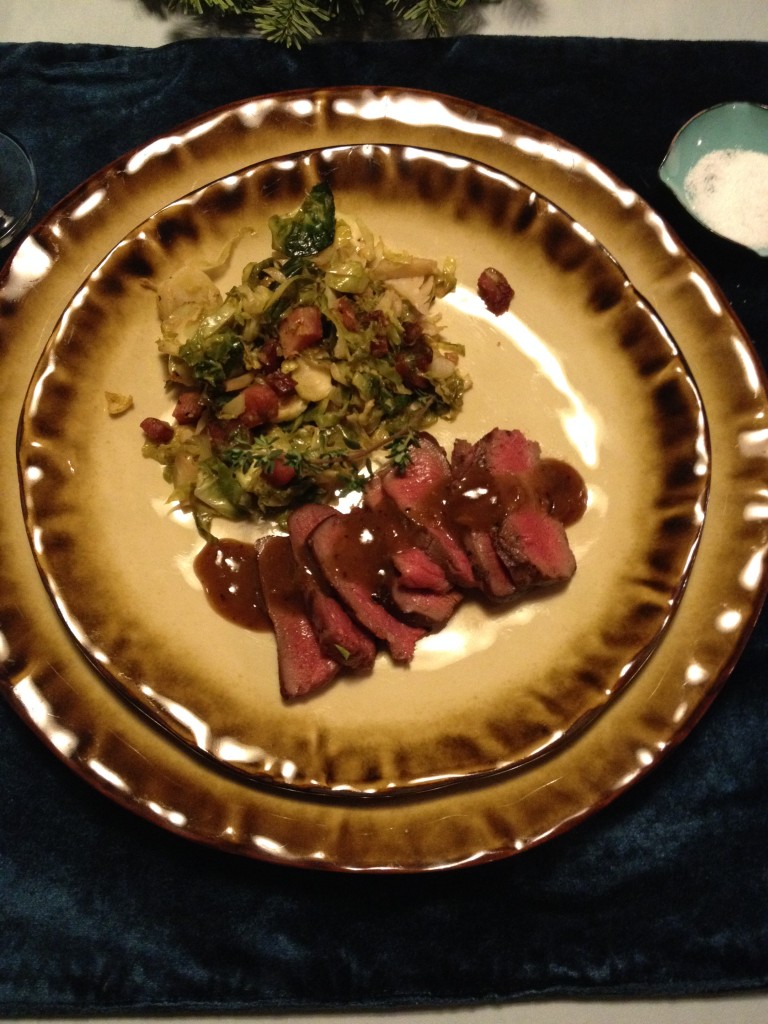 Most people don't automatically think gin when cooking game, but when you think about it, it makes sense. It's earthy, warm, and the juniper berries pair well with the gaminess, but also cuts through it, making an excellent pairing. There's not a ton of it in this recipe, so it just adds a little something tasty in the background. When grilling your medallions, each pack is about 2 lbs.
To start, make your Gin Sauce:
2 cloves garlic, minced
2 Tbsp onion, minced
1 Tbsp olive oil
1/3 c gin, I used Hendricks (use 1/8 tsp juniper berries and a small sprig of rosemary, if you don't want to use gin)
16 ounces stock, we used a combination of duck and turkey stock that we made from leftover bones. If you use store-bought, please cook longer and make a roux, as ours had a high gelatin content.
Pinch each, salt and pepper
Saute your garlic and onions until starting to brown, which should take approximately 5 minutes. Deglaze with the gin and simmer, 2-3 minutes. Add your stock and reduce by 3/4, or until you have a thickened version of your original liquid.
For the medallions:
I went simple here. I sprinkled on salt and pepper and grilled quickly for 2-3 minutes on each side. A note: Venison is super lean, so it can dry out quickly. You don't need to cook it long, so a good sear will go a long way. Game meat is really best served rare, or a light medium rare to retain the texture and keep it from getting dry. One you remove from the grill, let that meat rest! The juices will redistribute through the meat, making it even more lovely. You can wait 10 minutes, right? I know, I know…that sauce is smelling amazing.
Drizzle the sauce over your medallions and serve. It's really that easy and comes together in less than an hour. The sauce cooks itself, too, which makes this an easy to make weeknight recipe! I love these paired up with shredded Brussels sprouts, sauteed with bacon and garlic until tender, another simple recipe.
I should also note, that my daughter, who is a toddler with a g-tube and who thinks all meat (except for bacon) is gross, LOVED the medallions. Seriously guys. This dish was a winner to a toddler. If that isn't an endorsement, I don't know what is!
Next up was my football favorite, Venison Ribs with Whiskey Stout Barbecue Sauce!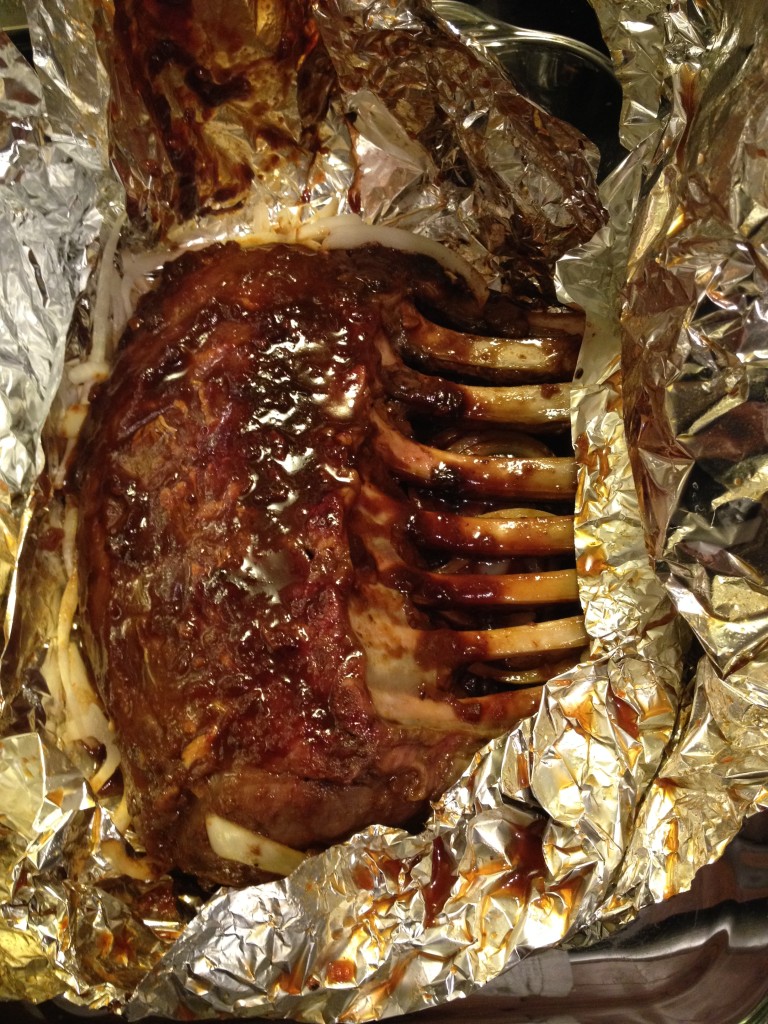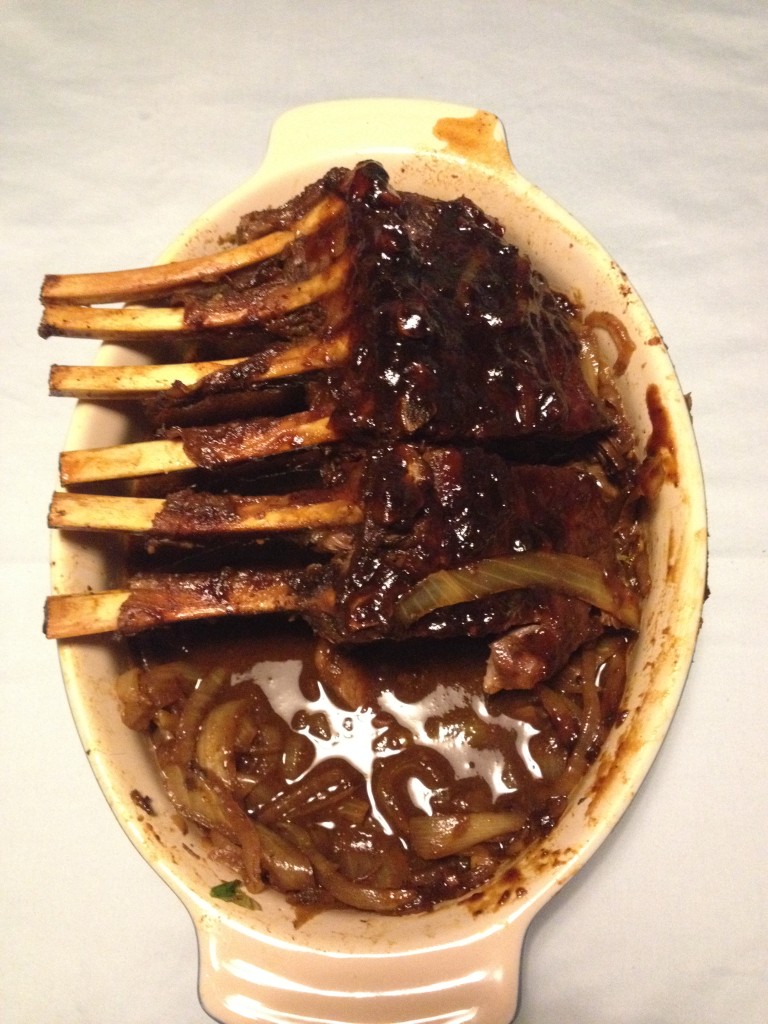 A lot of people think about treating this like a roast, I wanted bigger,juicy and a little saucy. I saw the ribs and didn't want to separate them, I wanted big, juicy, tender ribs.  The secret to this one was to brine the rack overnight to help retain moisture, so that I'd be left with a tender, meaty rib that would fall off of the bone. The sauce is smokey and rich, and adds a little heft to this lean meat. You won't miss your normal ribs one bit! Messy? Yes. Amazing? So, so yes!
Let's start with a simple brine:
Pour 3/4 c salt and 3/4 c honey in a heavy bottom pot and add 1/2 gallon of water, over medium heat until all ingredients dissolve. Let the mixture cool completely.  Once cooled, submerge your ribs for 12 hours, or overnight in the fridge. The next morning, pull them out of the brine, and give a quick rinse and pat them dry. Set them aside to come to room temperature. The nice thing about the brine is that it gives you time to make your barbecue sauce in advance! I love meals that you can do in pieces.
Whiskey Stout Barbecue Sauce
1/2 onion, minced
3 cloves garlic, minced
1 Tbsp olive oil
16 ounces dark beer-I would use a stout or a smokey porter
5 Tbsp tomato paste
1 hearty pinch of salt
2 pinches pepper
3 Tbsp brown sugar
3 Tbsp apple cider vinegar
1/2 Tbsp Worcestershire sauce
2 shot whiskey, I used Woodford Reserve bourbon
1/2 Tbsp cumin
1/4 Tbsp smoked paprika
1/8 c honey
1/2 Tbsp molasses
Saute your onions and garlic until lightly brown, and deglaze with the beer and stir, bringing to a boil. Add the rest of your ingredients, until you get to the honey and molasses. Simmer until reduced by half, about 20-25 minutes, and add your molasses and add your honey and molasses, continue to stir, to allow these last two ingredients to combine. Continue to simmer until your sauce is a consistency you like-I like a good, thick sauce, so I cooked the sauce for another 15 minutes.
Line a glass pan with enough tinfoil to make a pouch for those lovely ribs. I put some sliced onions down as a first layer to add moisture, flavor, and to keep my ribs from cooking too much. Lay the rack of ribs down on top of the onions and slather your sauce on the top. Flip over and repeat. Save some of the sauce for drizzling over your ribs when you serve. From here, close your tin foil, and place in a 250 degree oven for 2 hours. You want slow cooking on this to really let the sauce and the venison to cook together. Two hours later, pull them out and let them rest for at least 10 minutes. Slice into sections and enjoy! These ribs pair well with my crock pot apple sauce, made with cinnamon, brown sugar and a little apple brandy. To make this, take 4 large apples, core, and chop into chunks. Sprinkle with 1/2 tsp of cinnamon, 1/4 cup brown sugar, 1/4 cup of apple brandy (I used Calvados). Add all the ingredients to your crock pot, and cook on low overnight.
Again, I really enjoyed working with the venison from Marx Foods and can't wait to eat my way through the rest of their online store!  What would you make with venison? Leave a comment below, I'd love to hear about what you're making!!
To great food,
Raina
**Standard disclaimer, blogging helps to pay the bills. I promise to only showcase foods and goods that I trust!**