Years ago, I had an awesome neighbor that definitely made the block a better place! We became much closer after she moved away and have kept in touch through the years, sharing wisdom around kids, cooking, and essential oils. We both share a love of farm critters and homesteading. You may remember Nikki from a post a while back, where she made some amazingly easy bread! This recipe is no different-a great collaboration between herself and a peer, Steve! Thank you both for an amazing Sweet Corn Quiche & Shrimp Creole Sauce!!
Hello there from Elizabethtown Kentucky!! I am, again, honored to be asked by my sweet friend to contribute to her awesome blog. A lot has happened since my last contribution. While I no longer blog myself, I have been connected with an awesome little place called the "Java Joint" cafe, where I am able to grow and learn through culinary experiences. Its owner, Steve Breen, and I have become great friends and have been concocting brunch recipes over the past couple months now. This recipe that I'm going to share with you today, comes from my very talented friend and has become quickly a crowd favorite down and the cafe!
Sweet Corn Quiche with Shrimp Creole Sauce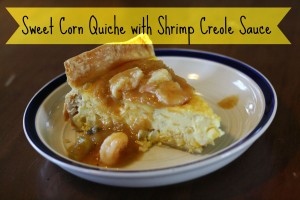 First part: Make your Quiche!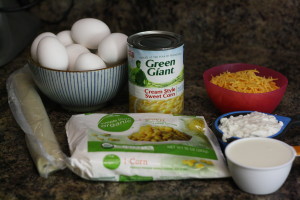 You will need:
* 10″ spring form pan
* Pie dough (you can use store bought or homemade)
* 12 eggs
* 1/2 cup heavy cream
* 1/2 cup cottage cheese
* 1 can cream corn
* 1 cup frozen corn
* 1 cup shredded cheese
1.)Spray your pan with cooking spray and line your spring form pan with your dough.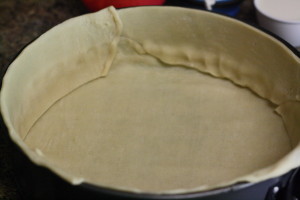 2.) Whisk all of your ingredients together and pour into your pan.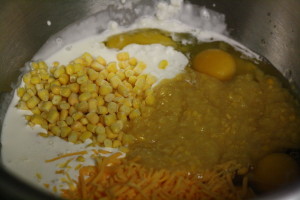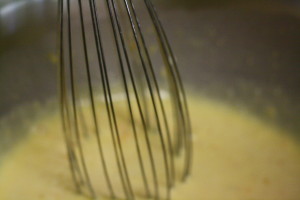 3.) Bake your quiche at 350 for approximately 1 hr and 15 minutes or until not longer loose in the center.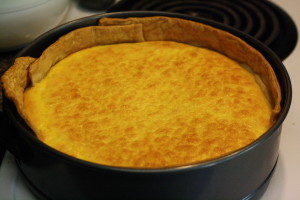 Part 2: While baking make your sauce!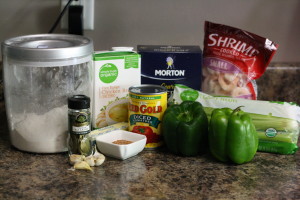 You will need:
* 6 tablespoons unsalted butter
* 1/2 cup all-purpose flour
* 4 cups chopped onion
* 2 cups chopped green bell peppers
* 2 cups chopped celery
* 2 tablespoons minced garlic
* 1 (14.5 oz) can diced tomatoes
* 2 bay leaves
* 1/2 tsp cayenne pepper
* 2 tablespoons creole seasoning
* 1 qt shrimp or chicken stock
* 3 lbs shrimp (peeled, deveined, tail off) (if frozen, let thaw a bit)
1.) Make a roux over medium heat, constantly stirring till it's the color of peanut butter.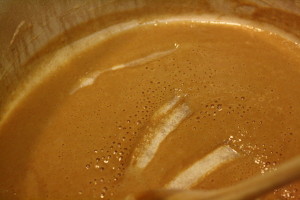 2.) Add the onions, peppers, celery, and garlic to the roux, stirring and allowing to cook for about 10 more minutes.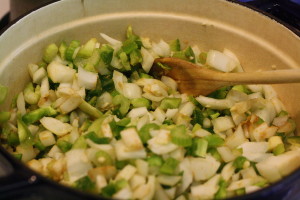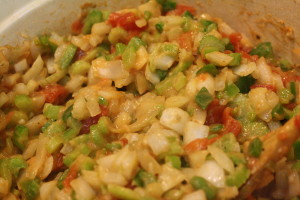 3.) Add the tomatoes, bay leaves, cayenne and 1 tablespoon of creole seasoning. Cook for 2-3 more minutes and then whisk in the stock.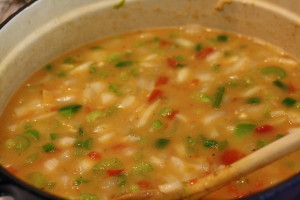 4.) Bring mixture to a boil and reduce heat to simmer for 45 minutes. Remove bay leaves and take a stick blender to pulse until you have a sauce like consistency. Season shrimp with the other tablespoon of creole seasoning and toss in sauce. Cook till done.
-Now-
Cut you out a nice big slice of your BEAUTIFUL Quiche and drape that scrumptious sauce right over! Enjoy!!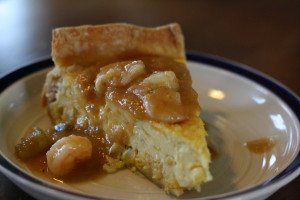 You totally want this, right?? I know what I am making soon. Thank you again, Nikki! Enjoy dear readers!
Raina