Hello dear reader! I hope the summer has been treating you well. Here in Seattle, the summer has gone way too fast, but we've been enjoying every moment as much as we can. Hikes, road trips, tons of great meals and of course, cocktails with friends. I'll post more about our adventures soon, but wanted to share an easy cocktail recipe for you to enjoy in the last few weeks of summer, which is only made more beautiful by these copper mugs from my friends over at Moscow Muled!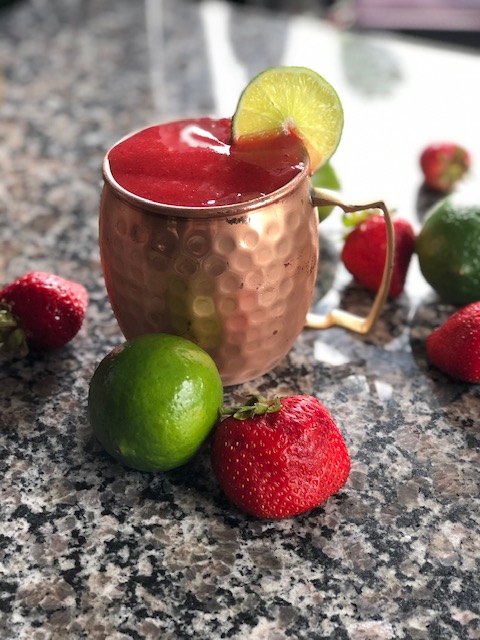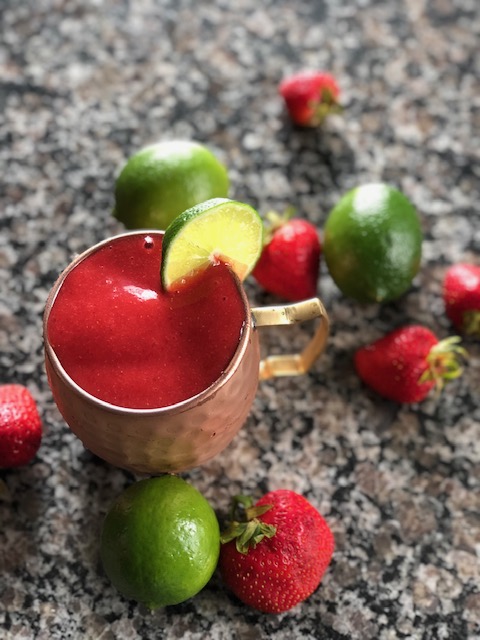 See? SO beautiful, right? I know, I can hear you now, but that's not a Moscow Mule in that mug! And you'd be right – these strawberry-lime margaritas just pop when poured into these babies.
These aren't your Dad's Moscow Mule mugs, they are hand forged, lined with food grade nickel (none of the leaching from standard copper), with welded handles, so they last. They also keep your drinks colder, longer. Function and form? Yes, please. They hold 16 ounces each, which is just perfect for this late summer and sitting in the hammock. Ready to give this a try? Read on!
Momma's Strawberry-Lime Margarita
Serves two, nicely
The key is to freeze your strawberries in advance, which avoids ice and in turn a watered down cocktail (who wants that??)
For the margarita:
.5 lbs Strawberries, fresh
1.5 lbs Strawberries, frozen in advance
1/4 cup lime simple syrup (See below)
2-3 ounces tequila
For the lime simple syrup:
Simple syrup is your easiest cocktail addition – it's always 1 to 1 (1 part sugar to the same amount of liquid).
1/2 cup sugar
1/2 cup lime juice
Heat the lime juice on low heat until hot, add sugar and stir until sugar is completely dissolved. Cool completely before using, and store in your refrigerator until used.
Put it all together:
Add the fresh strawberries, the lime simple syrup and tequila into the pitcher of a blender and blitz until the strawberries are blended up. Add the frozen berries and pulse until smooth. Pour evenly among your mugs and enjoy!
Simple, right? I'm telling you guys, this is the easiest drink you'll have this summer. Not a tequila person? No worries!! This is also REALLY good with rum or whiskey, or without alcohol for those who just want a refreshing mocktail!
I'd love to hear your thoughts! Leave your comments below.
Yours in strawberry bliss,
Raina
PS-while this is a sponsored post, I do fully support this local company and have enjoyed these mugs thoroughly. As always, I'll never share any product with you that I do not fully support and have tested myself. Cheers!