A few years ago, I wrote a fun post on boozy shots and Chocolate Stout Cupcakes with Irish Cream Frosting For St Patrick's Day and wanted to revisit the recipe to see what I could improve. For the most part, the recipe held up, needing just a touch more sugar, but the directions needed a little clean up. I'm revisiting that recipe, with a couple of tweaks for St Patrick's Day. These cupcakes aren't your kids' overly sweet sugar bombs – they are dark, dense, almost savory and filled with sharp chocolate and bitterness of a good stout beer, made just a touch sweet with the addition of Irish cream liquor in the frosting. Sound good? Read on! If you'd like a fun jello shot to pair with it, you can check out the original post, here.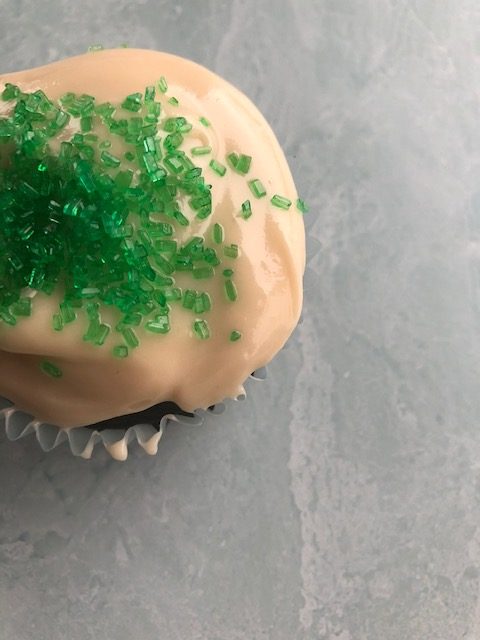 Chocolate Stout Cupcakes with Irish Cream Frosting
Makes 12 cupcakes
Ingredients:
1 cup Guinness, or stout beer
2 TB of Irish cream
1/2 cup dark cocoa powder
1 stick of butter
1 cup AP flour
3/4 tspn of baking soda
1/4 tspn salt
1 egg
1/2 cup of sour cream
1 cupcake tin and 12 liners
Directions:
In a small pot combine your stout, Irish cream, dark cocoa powder and butter, and place over medium heat. Let the mixture warm up, stirring until the butter is melted and the chocolate is combined – do not boil, just warm it slowly. A tip: slowly adding the cocoa powder versus plopping it all in, makes for a smooth texture. While that is heating up, combine your flour, salt, and baking soda in a large bowl, or in the bowl of a mixer stand and set aside. Once your stout/chocolate butter mixture is ready, add to your flour mixture and stir until thoroughly combined. Finally, add your egg and your sour cream and mix until it's incorporated too. Note – the mixture will look loose. That is ok!!
Bake at 325 for 17-20 minutes, or until a toothpick comes out clean.

Irish Cream Frosting
Ingredients:
8 ounces cream cheese-softened
1/2 to 1 cup powdered sugar
1/4 cup Irish cream
A note: I don't like sickeningly sweet frosting, so there's not a ton of sugar in here. Taste as you go, and add more sugar to your liking.
Directions:
In the bowl of a mixer, combine the sugar and cream cheese blending until all is incorporated, slowly add your Irish cream until you have consistency that you want. Apply to a cooled off cupcake and enjoy!
I hope you enjoy!
Yours in chocolatey goodness,
Raina