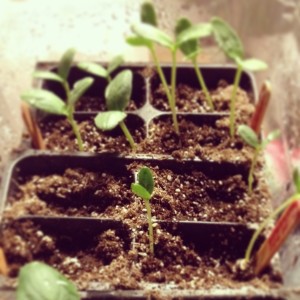 While the rest of the country is buried under a mound of snow, Seattle is basking in sunlight. Spring is here! I have been itching to get into the garden and get ready for what I hope is a crazy long growing season.  This year, I am moving my beds around, and turning my entire front yard into a land of raised garden beds-I can't wait! I'll likely keep the big bed in the back yard for plants who can't take all sun, all the time, but look out folks-this year is going to have a ton of produce!
To get a jump on spring, I am starting my seeds indoors a little at a time (I started last week), and my Inchelium garlic is growing like crazy. The seeds-all organic, non-GMO and mostly heirloom are already poking through, and I am feeling pretty good about getting a head start this year 🙂
I used an organic seed starter mix, and dropped a few seeds into it every inch or so, in little planter cups. It's easy, fun, and you start seeing your seedlings pop up in just a few days!
So, what seeds did I start growing?
Let's start with the tomatoes!
Black Krim
Brandywine
Cherokee Purple
Gold Medal
Japanese Trifele Black
Juane Flamme
Kellogg's Breakfast
Marvel Stripe
San Marzano Gigante
Siletz
Two Color Fiesta tomatillos
Herbs and Flowers:
Borage
Calendula
Chamomile
Lemon Balm
Nasturtium
Thyme
The Peppers:
California Wonder-sweet pepper
Jalepeno
Lemon Drop Hot Pepper
Maya Red Habenero
Pablano
Squash and Melons:
Abundant Harvest (this is a seed blend, so a mix of: Black Beauty, Caserta, Coczelle and Golden Straightneck-no clue which is which)
Burgess Buttercup winter squash
Early Silver Line melon
Hearts of Gold melon
 Rich Sweetness 132 melon
Mexican Sour Gherkins
Oka Bizard Island Strain melon
Stripetti Squash
Tanja Cucumber
The other goodies are:
Belstar Hybrid broccoli
Derby Day cabbage
Marina Sweet lettuce
Rodynda Cabbage (mmmm….sauerkraut and Kim chi!!)
Phew…..that's a lot!  I have other things like beans, beets, peas, radishes and some other flowers that will get directly sown into the grown-I can't wait!!!!
What's in your garden this year?
Yours in nature,
Raina