Hi hungry readers!  Can you believe we're half way through, already!?  Day 4 is as sweet as can be with delicious Hawaiian French Toast with Bananas Foster Topping from Tania at Hash Tag Eat. I am SO excited to try this one. Yum!
Brunch is definitely a favorite.  Here is one of my favorite recipes for French toast.  Hope you enjoy!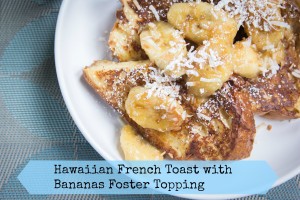 Recipe: Hawaiian French Toast with Bananas Foster Topping
INGREDIENTS
3 eggs
1 cup milk
1/2 cup heavy cream
1 tablespoon pure vanilla extract
1 tablespoon ground cinnamon
1/4 cup brown sugar
Pinch of ground nutmeg
Loaf of King's Hawaiian Sweet Round Bread (cut 1 inch slices)
3 tablespoons unsalted butter melted
1/4 cup toasted shredded coconut (optional) – set aside
1/4 cup powdered sugar – set aside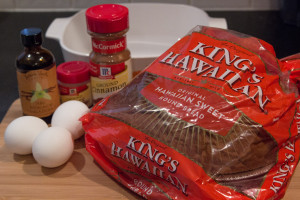 Topping:
3 bananas sliced diagonally
2 tablespoons unsalted butter
1/2 teaspoon vanilla
1/4 cup brown sugar
1/4 cup maple syrup of your choice (optional)
1/2 teaspoon cinnamon
1 teaspoon rum extract or 1 tablespoon Jack Daniels Tennessee Honey (optional for
grown-ups)
DIRECTIONS
Whisk together eggs, milk, whipping cream, vanilla, cinnamon, brown sugar, nutmeg and melted butter in a medium bowl; then place contents in a shallow dish to be used for dipping.
Lightly oil or butter pan/skillet in low to medium and lightly oil.
Take 2 slices of bread (or as many as you can fit in pan/skillet) and lightly dip each side into the batter then place in the heated pan/skillet. Cook until both sides are golden brown. Repeat until done.
Keep in oven until ready to serve.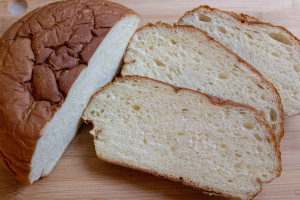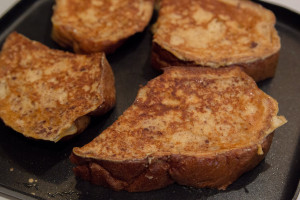 Topping
Melt butter in a skillet on low heat
Add maple syrup (optional), brown sugar, vanilla, cinnamon and rum extract or Jack Daniels then mix well
Add sliced bananas, cook until slightly tender; set aside to cool
Once cool, spoon over and enjoy!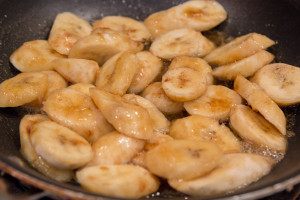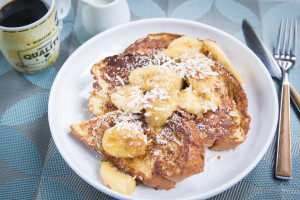 A little bit about Tania: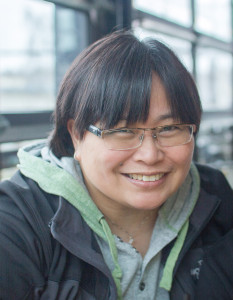 Hi! I'm Tania.
 Born and raised on the island of Guam, and living in the Pacific Northwest. A self-taught photographer, food fanatic, avid food photographer, and blogger of HashTagEat.com.
 When I'm not busy working, you will find me hanging out with family and my furbaby Koa (chocolate Labrador), thinking about what I should cook for dinner and most likely planning my next food adventure in Seattle.
 You can find me on instagram @ohsnaps documenting my food adventures with my trusty iPhone and then some.  Blog: www.hashtageat.com || Portfolio: www.taniarceo.com