I'm sitting here in Yellowstone National Park, taking a break from hiking and playing and chasing critters to have bacon and pancakes in the condo. More on that later. I keep meaning to give updates of what I have been up to, so I'll use this fabulous free day to do that!
We have been building up the garden, including adding a new bed for lettuce, fennel, chives, and dill. We moved the coop to open up the back yard as well. The gardens look great, and we were able to set up multiple hammocks.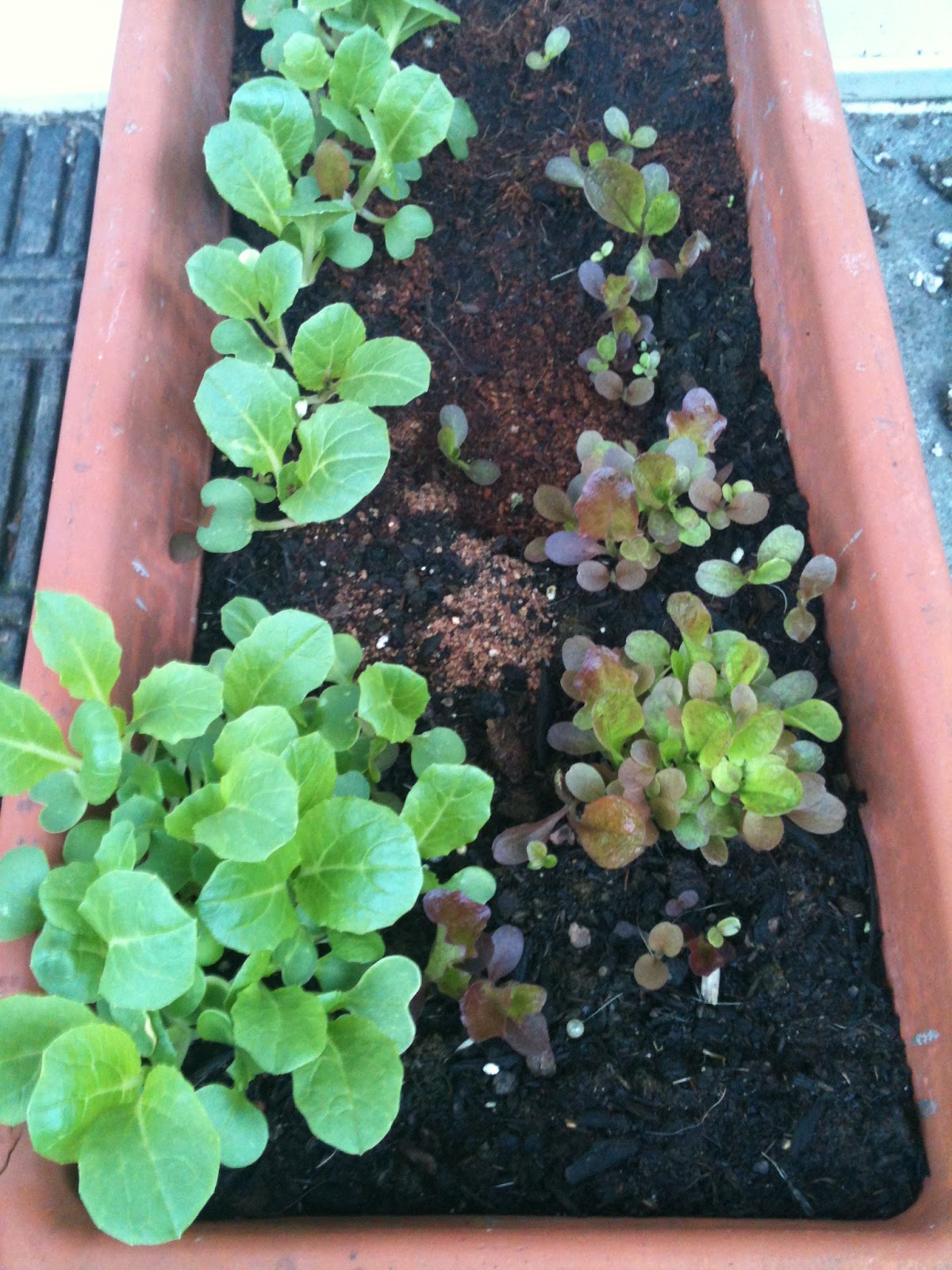 The start to some pac choi and lettuce. I started it in a small planter, then transplanted it  into a larger 4X4 foot bed.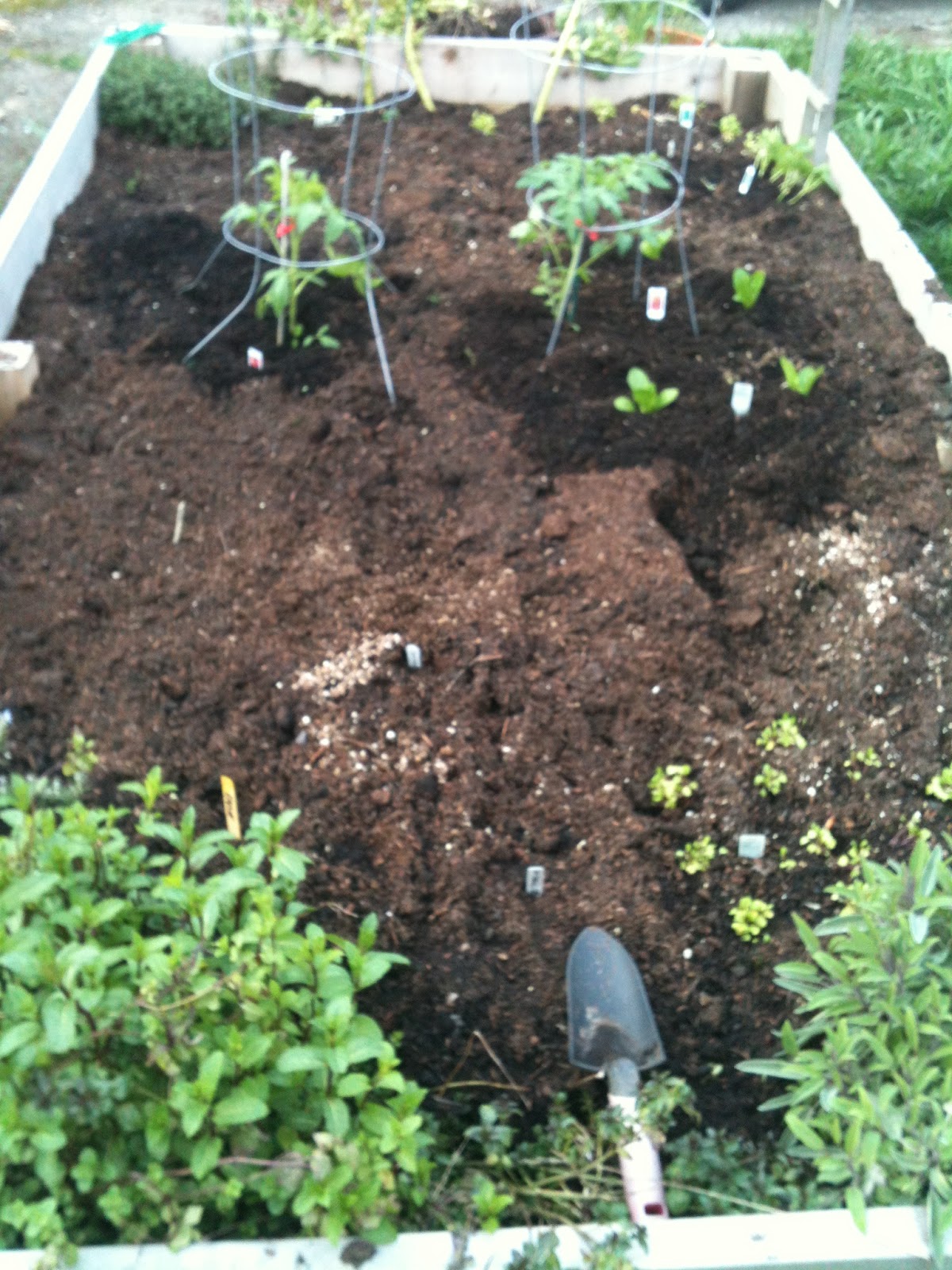 This is one of the bigger beds.  Before I left for vacation, the lettuce, radishes and onions were  growing out of control!  I also added 4 more tomato plants and more peppers. There's been dozens of other plants as well!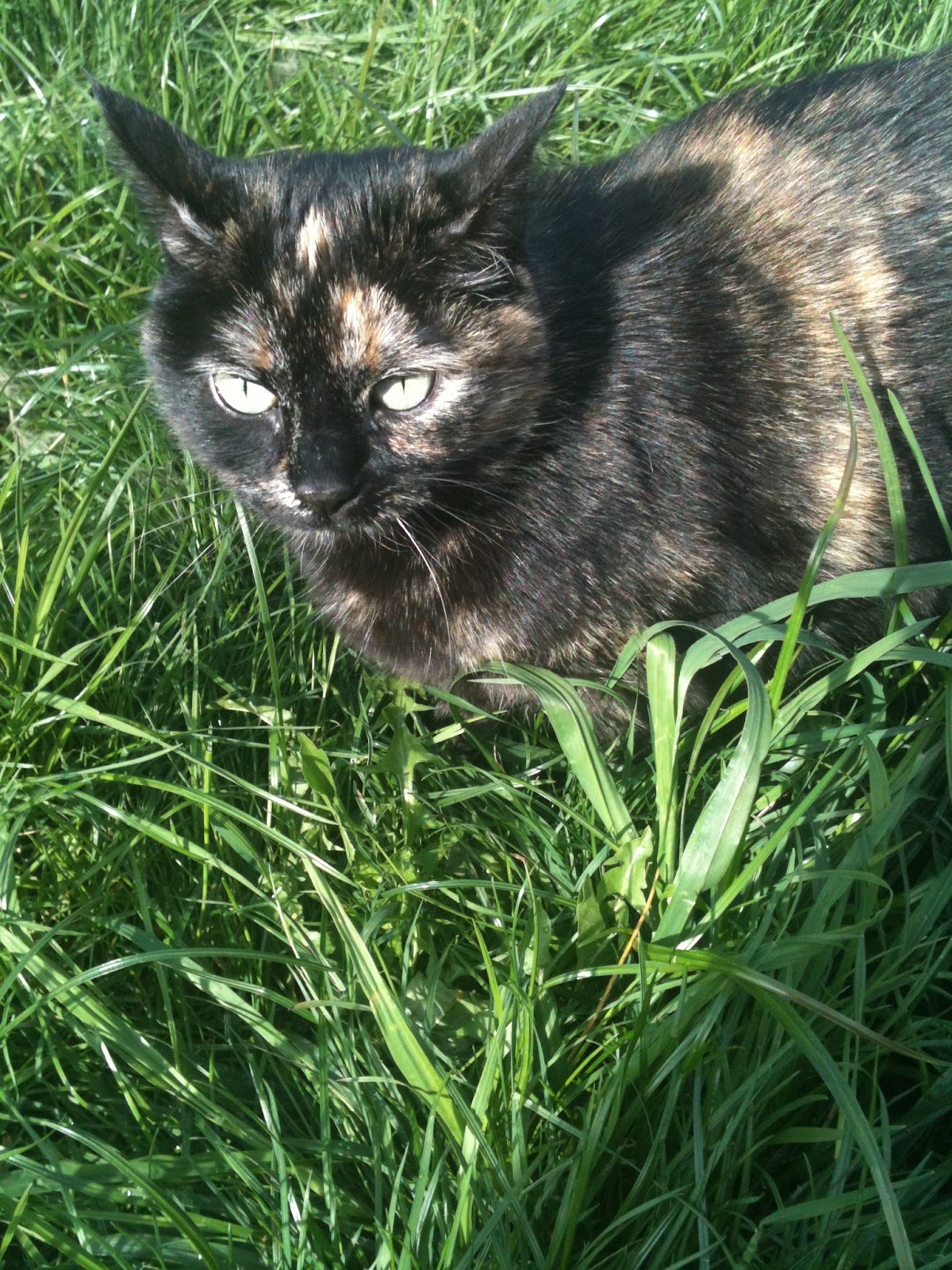 Even Charlie got in on the sun shine!  She doesn't get to come out very often, but she  had a great time watching the chickens and stalking butterflies. How could I say no to that?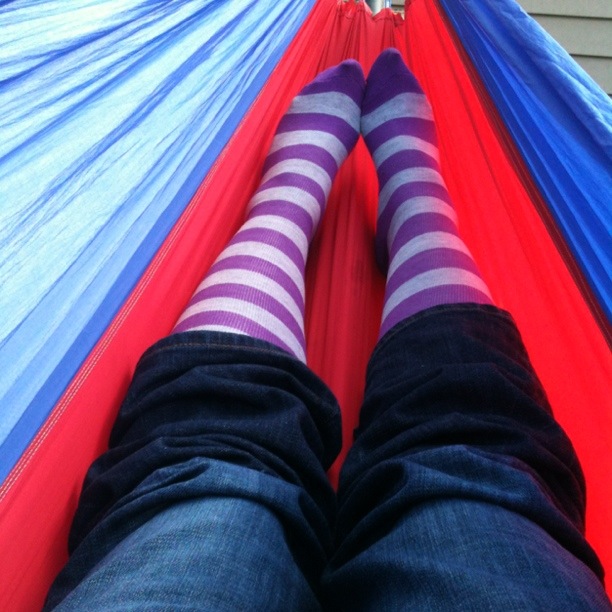 I took a quick hammock break to sit and relax in the sun. It was warm and sunny, and I couldn't resist a break!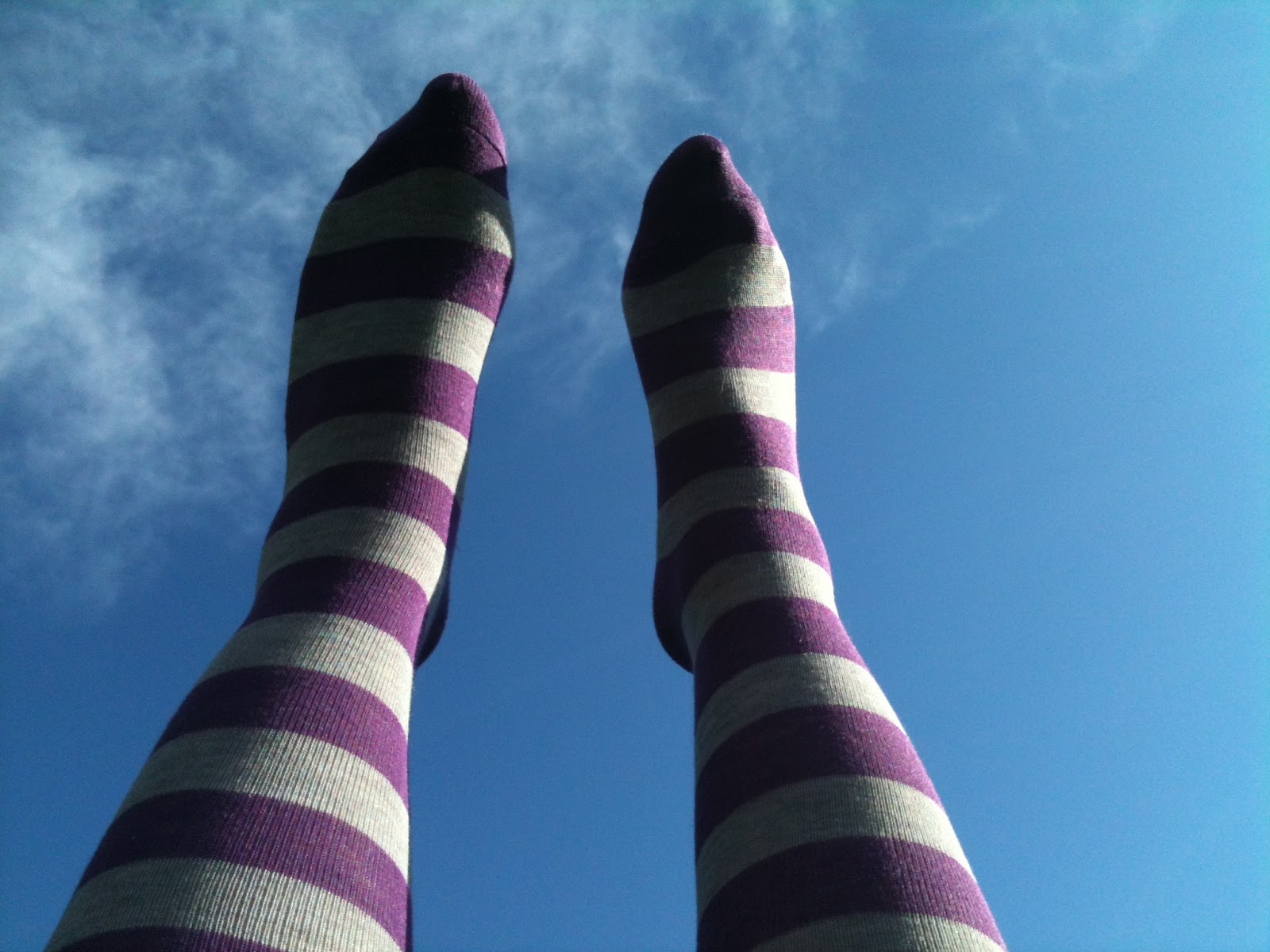 I had to take a quick pic of my feet in the sun, too! 🙂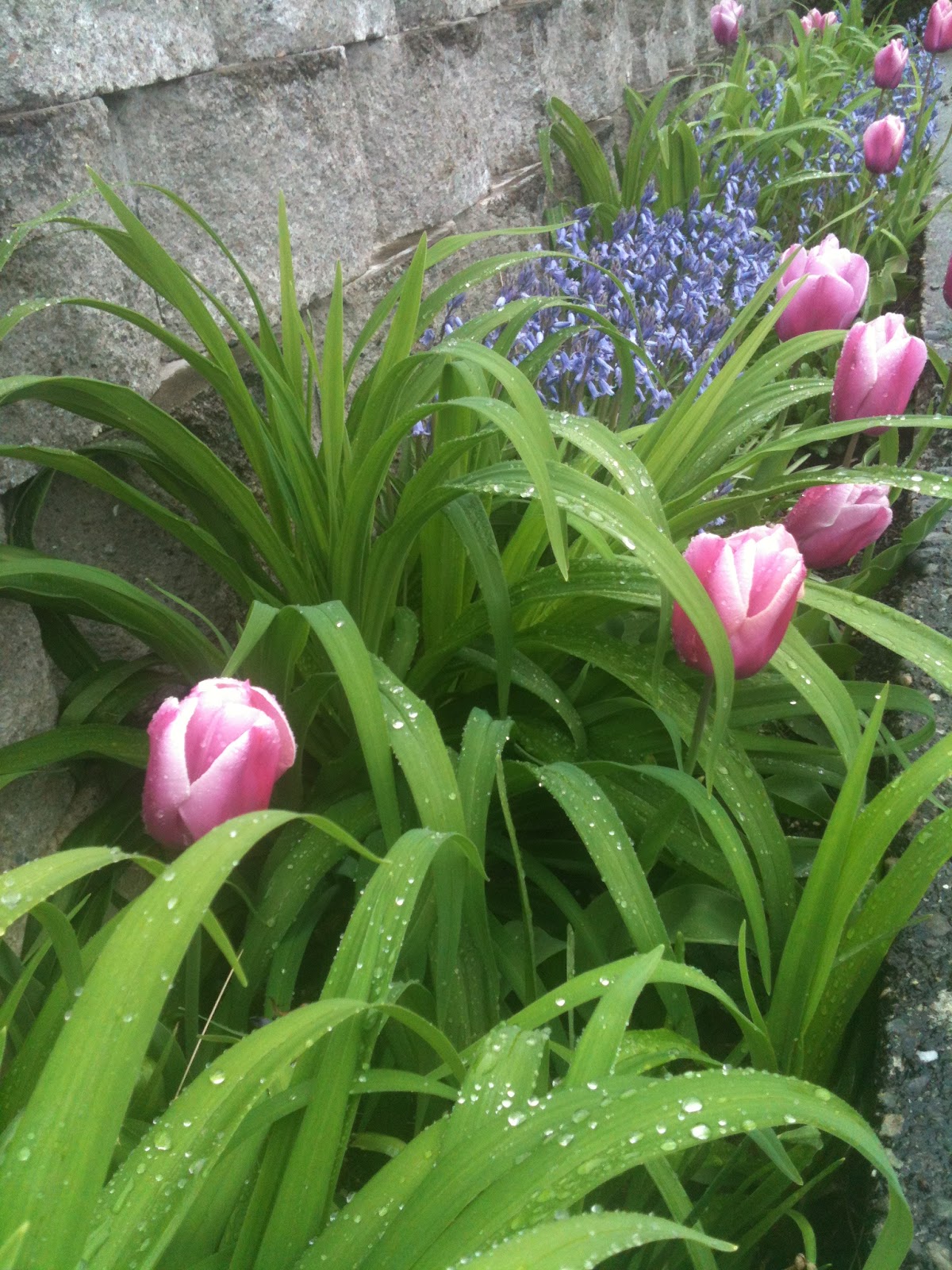 The flowers in my front bed were blooming as well!
We had planned to go to Rainier, but Mia ate an entire chocolate cake, so we stayed home to watch her to make sure she was ok. After a lot of grass eating, moaning and whining, she was fine. To make sure I was still able to get some camping in, Nick put up the tent in the back yard, and set up the fire pit. It was a great way to end the day, and even Mia had a good time. Did she learn her lesson with chocolate? Probably not!
Nick and I celebrated what we refer to as our Bacon-i-versary, the celebration of the day we met and when Nick made me a bacon-wrapped hot dog. It was a turning point in rough year for me, and I wanted to make sure it was a special time. We planned a few trips, and I cooked a huge dinner for the two of us. I made Cab braised beef over spicy blue cheese polenta, with fiddle head ferns cooked in white wine and garlic and shallot. With that was a miners lettuce and wood sorrel salad with roasted peaches topped with blue cheese and drizled with with a balsamic reduction. I paired each with a cocktail to remind us of the adventures we had-Champagne with elder flower liqueur, a white wine from one of our first dates, and a Cab from when we went to Cave B Winery and Inn. It was an amazing night, and so very delicious!  Here's some pics:
A few weeks ago, we made our way to Mt Rainier to do some exploring and hiking. We had decided we'd look for chanterelles and fiddle head ferns. Sadly, it was still too cold. We instead ate elk and venison burgers from a train in Elbe. We did a nice hike to some waterfalls, and I brought my film camera with me. It was a great time, and it was nice to get out and play, too.  We saw a few critters, my favorite was a little fox who was quite interested in what everyone was doing. I'll have to post pics of him soon, too.
For the past few months I have been working on what I am referring to as the ultimate craft project. I'm not quite ready to release details on it quite yet, but details to come in a few weeks, promise!
That brings me to now! I have been on vacation since Friday, and this has been lovely!  We started our trip out to Yellowstone by driving first to Wallace Idaho. We walked around, hit a brewery where Nick tried all of the beers, and we played many games of pool. It was a fun time, and I highly recommend staying in Wallace if you want to check out some antique shops, have some good food, hit museums and if you want some amazing beers.
We slowly made our way to Yellowstone, hitting 50,000 Silver coins, an odd place right after the Montana/Idaho border, where I spend 5 bucks to play a slot machine and to people watch. We also passed through Missoula, where I picked up some black and white camera film and Nick bought this awesome old school Graflex camera-fully functional!  Isn't it awesome?!
The past few days have been spent meandering through the park, hiking, taking pictures and just adventuring in general. It's been an amazing time, and I am happy to be on the road. Yesterday I woke up to a pack of wolves howling outside.  I am also on the look out for a new film camera, as mine finally died after almost 15 years. The rest of the trip will be spent hiking, playing, caving and doing more photography. After all, I did bring 3 cameras and 6 lenses. I'll post pics when I am back home and have better internet connection, and all my pics uploaded and the film developed. In the meantime, here's one more pic to hold you over!
Here's to a relaxing day, whether you're on the road or just doing the day to day things 🙂
All my best-Raina
"I travel a lot; I hate having my life disrupted by routine."  Caskie Stinnett